Orange County and San Diego Amusement Parks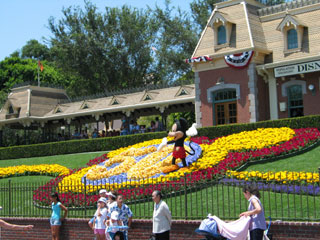 Near the entrance of Disneyland
Disneyland / Orange County
Disneyland
Southern California's most popular amusement park. Emphasis on theme attractions and rides. Disneyland is a "must see" attraction. You will feel the magic of Disneyland as soon as you enter the park! Plan on spending a whole day (or longer, if possible). Follow the link to find more info and a Disneyland Photo Gallery.
More Disneyland Links
Accommodations: Hotels near Disneyland
Transportation: Getting to Disneyland
Disney's California Adventure
Disneyland's sister park is located near the main gate of Disneyland. Come celebrate the fun and adventures of California -- Disney style! You'll be immersed in the California spirit through the magic of Hollywood, the thrills of a beachfront boardwalk and the adventures of the great outdoors. You can visit California Adventure in one day or less, so a 2-day Park Hopper lets you enjoy both parks and gives you extra time to explore Dsineyland.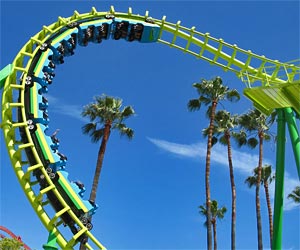 Knott's Berry Farm
Knott's Berry Farm
Large theme park with an emphasis on theme attractions and rides. There is an adjacent shopping district that you can visit for free. Some thrill rides. If you like slower rides where you can look at animated characters and other scenarios, try Knott's. This is a good place for kids. The park and the shopping district follow an old western (cowboy) theme, plus features Snoopy and other Peanuts characters.
Soak City
Located next to Knott's Berry Farm theme park, Soak City is one of Southern California's largest water parks. High-speed slides, 4-person rafts, single-rider inner tube slides, enclosed slide flumes, a lazy river, wave pool, and a family fun house featuring a variety of water activities.
Adventure City
A small amusement park that offers rides and activities for kids, for a low admission fee. The park is located in Anaheim, about 5 miles west of Disneyland, and 3 miles south from Knott's Berry Farm. Open weekends and holidays.
Speedzone
A park built around speed and competition, incorporates real racing action, indoor interactive entertainment and great food to create a one-of-a-kind entertainment experience. Situated on approximately 12 acres of land. Pilot a NHRA Top Fuel Dragster, spin wildly in a go-kart on the finely polished concrete surface Slick Track, race Grand Prix cars and more.
---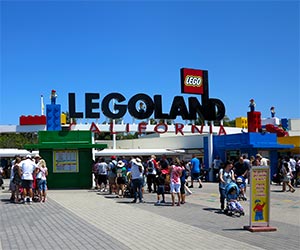 LEGOLAND®, California
San Diego Area
LegoLand California
The theme park features rides, entertainment and more than 15,000 models and attractions made out of tens of millions of Lego bricks, including a dinosaur that is alone built from more than two million bricks. Young kids LOVE LegoLand! They'll find rides and roller coasters made especially for them! Older kids and parents will enjoy the laser blasters and the Lego Mindstorms Learning Center. LegoLand is about a one-hour drive south from Disneyland but it is definitely worth the drive. This attraction is sure to provide your family with a full day of thrills and entertainment.
San Diego Zoo Safari Park
(formerly called Wild Animal Park) - Located 32 miles northeast of the San Diego Zoo near the city of Escondido in north San Diego County, the San Diego Zoo Safari Park is 20 times larger than the Zoo. It is also a completely different experience than a visit to the Zoo. The 1,800-acre wildlife preserve allows visitors to view herds of exotic animals as they might have been seen in their native Asia and Africa. The Park has over 3,500 animals representing 260 species, and is also an accredited botanical garden.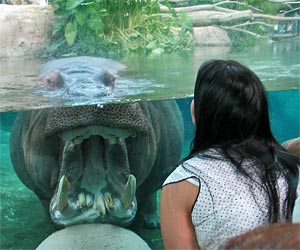 Hippo at San Diego Zoo
San Diego Zoo
The San Diego Zoo cares for more than 4,000 individual animals representing 800 different species. Its collection of animals, as well as its plant collection of over 6,500 species, is acknowledged as one of the finest in the entire world. TIP: For a memorable experience at the San Diego Zoo, try the optional "Backstage Pass" experience. You'll be treated like a VIP as you are personally introduced to furry, feathered, and scaly critter celebrities in a private show area!
SeaWorld San Diego
SeaWorld is about a two hour drive south of downtown Los Angeles. See dolphins, polar bears, whales, sharks and other aquatic animals in exhibits and performances.
Belmont Park
San Diego's only beachfront amusement center and home of the historic Giant Dipper Roller Coaster and Plunge. Belmont Park carries on the tradition of old-time family fun featuring The Giant Dipper Roller Coaster, Vertical Plunge, Bumper Mania, Tilt-A-Whirl, Liberty Carousel, Crazy Submarine, Thunder Boats, Baja Buggies, Sea Serpent, and Pirates Cove, San Diego's largest and most adventurous indoor children's play center.
Paintball Parks
Paintball Parks offer courses with obstacles, where players compete in mock battles using Paintballs (including Paintball Soft), Airsoft, Nerf projectiles and more. Some hold competitions and special events. Most also include deals for groups and parties. Equipment rentals are available. Some let you bring your own paintballs, but check each website carefully for details. All parks require a waiver, which can usually be filled out online.
Los Angeles Amusement Parks
Amusement Parks in Los Angeles
The list includes Universal Studios Hollywood, Magic Mountain, Hurricane Harbor, Aquarium of the Pacific, Los Angeles Zoo, Pacific Park at Santa Monica Pier, Sherman Oaks Castle Park, K1 Speed Torrance, Raging Waters, Castle Park (Riverside).
---
Short Link: LAtourist.com/AmusementParks ||| Micro Link: inLA.us/amuse
---