Knott's Berry Farm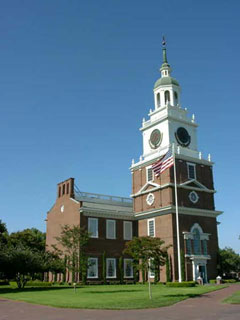 Replica of Independence Hall
near Knott's California Marketplace
Knott's California MarketPlace
Located adjacent to Knott's Theme Park, Knott's California Marketplace [website] is a memorable and truly unique shopping and dining experience awaits you. From the world famous Mrs. Knott's Chicken Dinner Restaurant, where it all began in 1934, to Virginia's Gift Shop, California MarketPlace includes fifteen shops and restaurants in all. Nearby is an exact replica of Independence Hall (historical reenactments are shown daily).
Soak City
Just beside the Knott's Berry Farm theme park, you'll find one of Southern California's largest water parks, Knott's Soak City [website]. This park boasts a plethora of the latest water rides designed to cool you off and keep your heart pumping. You'll find high-speed slides, 4-person rafts, single-rider inner tube slides, enclosed slide flumes, a lazy river, wave pool, and a family fun house featuring a variety of water activities. There's also a shop or two and a handful of places to grab a quick bite to eat.
Knott's Berry Farm Resort Hotel
Not unlike the other theme parks in the area, Knott's has its own resort hotel. Located adjacent to Soak City, this attractive hotel offers spacious, comfortable rooms, including Snoopy-themed rooms for little ones; a restaurant and bar that serves all three meals; a large pool; and a well-equipped fitness room.
---
More Reading
The History of Knott's Berry Farm
External Links
Knott's Soak City Official Website
Knott's California MarketPlace Official Website