Los Angeles Tourist Accessibility Guide - Accessible Transportation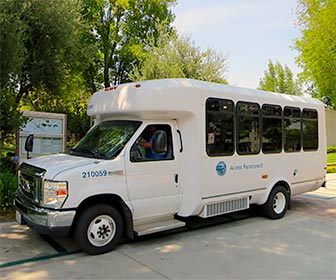 Access Paratransit Van
Access Paratransit Services - Consolidated Transportation Services Agency (CTSA) for Los Angeles County. Provides low-cost transportation service for any ADA paratransit eligible individual to any location within 0.75 mile of any fixed bus operated by the Los Angeles County public fixed route bus operators and within 0.75 mile around METRO Rail stations during the hours that the systems are operational. Access Paratransit operates seven days a week, 24 hours of the day in most areas of Los Angeles County. It is a shared ride service that operates curb-to-curb and utilizes a fleet of small buses, mini-vans and taxis. Trip reservations can be made from 45 minutes to 24 hours prior to the desired pick-up time. NOTE: This service requires an eligibility review. See the requirements at the website. Phone: 1-800-883-1295; TDD: 1-800-826-7280; Customer Service: 800-827-0829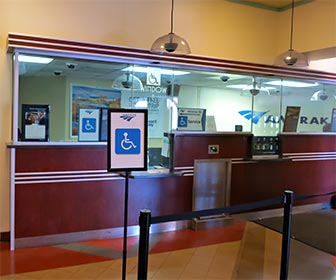 Amtrak Accessible Ticket Window
Amtrak Train - A Guide to Amtrak Special Needs & Accessibility services (General information: 1-800-USA-RAIL or 1-800-872-7245)
Airline Seating Charts - Want a window seat on the airplane? Or do you prefer the aisle? This site has seat maps for many airlines in the US, South America and Europe. If you buy your airline tickets online, or if your travel agent doesn't know, this valuable resource will show you where the seats are located.
CityRide (by LA DOT) - Los Angeles Department of Transportation Cityride is a transportation assistance program for individuals age 65 or older and qualified disabled persons in the City of Los Angeles and select areas of Los Angeles County. The program offers Cityride participants reduced costs for the purchase of City of Los Angeles permitted taxi rides or Cityride Dial-A-Ride services. This service will probably be of more use to L.A. County residents than tourists, since it is a monthly subsidy that requires an application to be filled out and approved. Call Cityride from the 213, 310, 323 or 818 area codes at: 808-RIDE (808-7433) (TDD: 800-559-1950)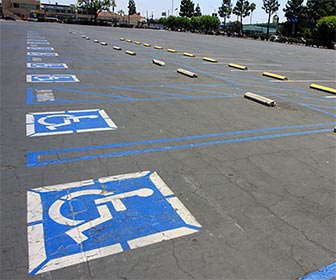 Accessible Parking Spaces
DMV Disabled Parking Placards for Visitors - Travel parking placard for disabled people who are nonresidents and plan to travel in California. Valid for up to 90 days or the date noted by your licensed medical professional on the application, whichever is less. Look for a link that says, "Application for Disabled Person Placard or Plates (REG 195)." On the application, choose "Travel Parking Placard." There is no charge for the permit.
Federal Aviation Administration (FAA) Passenger Information Page - Airport status and delay Information; air travel tips and information; flying with portable electronic devices; travelling with pets; and more.
Greyhound Bus - Greyhound ADA Services. (Greyhound Travel Assistance Line: 800-752-4841)
Los Angeles Department of Transportation (LADOT) - operates short and long-distance commuter buses within Los Angeles, namely the DASH and Commuter Express services. LADOT buses are wheelchair accessible. Service animals are permitted on LADOT vehicles with documentation. Walkers, crutches and other mobility devices are also approved for use. DASH and Commuter Express buses are equipped with two wheelchair tie-down position. Disabled passengers requiring additional accommodation can call the LADOT Transit Store at (213, 310, 323, 818) 808-2273 to arrange special services. Riders with limited mobility; who are blind, deaf or hard of hearing can request that their driver vocally identify stops. (Routing Assistance: 1-800-COMMUTE or TDD: 1-800-252-9040) (LA DOT Home Page)
Los Angeles International Airport - LAX accessibility information for parking, ADA pick-up points, transportation between terminals for disabled passengers, rampways, elevators, restrooms, wheelchairs, transportation, and more. (General Info: 855-463-5252). (LAX Home Page)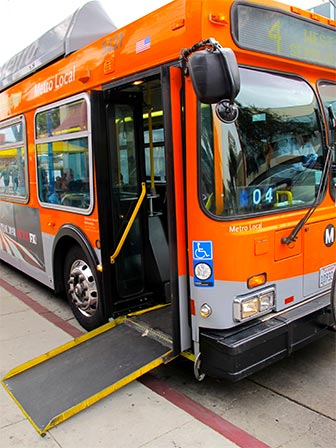 Metro buses have ramps and can lean
Metro (Public Buses and Trains) - The Los Angeles County Metropolitan Transit Authority (Metro) operates buses equipped with automatic wheelchair lifts. . Metro is also the primary funding source for Access Paratransit Services (see above).
Metro Contacts
General Information:
323-GO-METRO
(323-466-3876)
Metro Accessible Services Hotline: 800-621-7828.
Metro Elevator Outages - a Twitter page where Metro announces elevator maintenance schedules, and alternate routes if you are impacted by the outage.
Parking Permits for Disabled Visitors - see the link to the DMV website above.
TSA Travellers with Disabilities and Medical Conditions - from the Transportation Security Administration (TSA), including information about specific disabilities or limitations that might make it difficult for you to go through security screening at the airport.
TSA Traveller Information - general information from the Transportation Security Administration (TSA), including: acceptable identification at the checkpoint; how to get through the queue faster; rules for carrying liquids; information about pat-downs; prohibited items; screening for passengers aged 75 and older; and traveling with food or gifts.
NAVIGATION

L.A. Access: Transportation (this page)

ADVERTISMENT