Los Angeles Tourist Accessibility Guide - Outdoor Activities

Accessible Nature Centers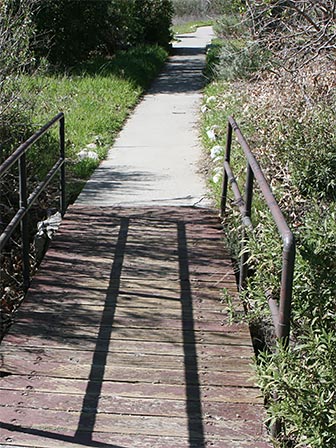 Accessible Trail at Placerita Canyon Park
Placerita Canyon Nature Center - the trail to the Oak of the Golden Dream is fully accessible, although the last 50 feet involves flat dirt with some small rocks. Many trails are easy, and the nature center is accessible. (Santa Clarita, 661-259-7721) [Placerita Canyon Nature Center Home Page]
Vasquez Rocks Natural Area - The nature center is accessible although most of this park is not. (Agua Dulce, near Santa Clarita, 661-268-0840) [Vasquez Rocks Natural Area Home Page]
TreePeople / Coldwater Canyon Park - the park is somewhat accessible, involving easy, wide dirt paths on slight to moderate inclines. TreePeople is a non-profit organization adjacent to the park, and offers restrooms, a meeting room, a picnic area and a water conservation exhibit, all of which are accessible. (On Mulholland Drive at North Coldwater Canyon Road, north of Beverly Hills). [TreePeople Home Page]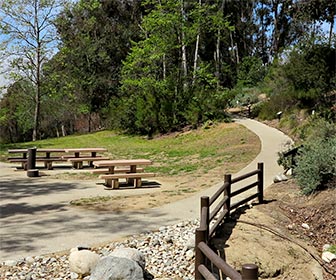 At Kenneth Hahn Recreation Area
Kenneth Hahn State Recreation Area - most areas are accessible, though it's a big park so naturally there are areas that will be difficult to traverse. However, you can get to the view of downtown L.A. with mountains in the background (best on a clear day, and you need a long telephoto lens). There is a large pond with fish, an accessible nature trail and more. (Los Angeles, 323-298-3660) [Kenneth Hahn State Recreation Area Home Page]
Eaton Canyon - the building, restrooms and surrounding picnic areas are wheelchair accessible as are a couple of nature trails. The canyon at large is not - the trail is mostly built across the wash, and it's sand, gravel and rocks underfoot. (Pasadena, 626-398-5420) [Eaton Canyon Home Page]
---
Beach Accessibility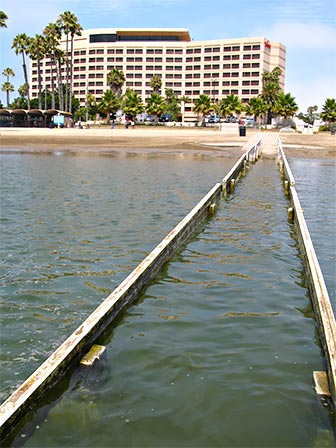 Wheelchair Railing at Mother's Beach
Mother's Beach, Marina del Rey - an accessible wooden railway extends from a wheelchair path, into the marina. The water is very calm at Mother's Beach, with no waves. (Phone: 310-305-9545) (Mother's Beach Home Page)
Santa Monica Beach Wheelchairs - The City of Santa Monica provides motorized beach wheelchairs.
Santa Monica Beach - There is an accessible path way that extends from the bicycle path (adjacent to the parking lot). The path leads out into the sand, to a point that's covered with water at high tide. There are other similar paths near the Pier. There is an accessible pedestrian path that joins Santa Monica Pier with venice Beach (about 2 miles distance). (California State Parks: 310-458-8411; TTY: 310-917-6626) (Santa Monica Beach Home Page)
Beach Wheelchairs - are available for use at several beaches in Los Angeles, including beaches in Malibu, Santa Monica, near LAX airport and in the South Bay areas. The chairs are equipped with wide tires that can traverse sandy beaches. The chairs are available through lifeguards or kiosks at the parking lot entrance. The website has a list of beaches where wheelchairs are available and phone numbers you can call for information.
Wheelchair Rider's Guide - for coastal areas of Califoirnia. Two guides are available for download near the bottom of the page. One is for Los Angeles and Orange County, and the other for areas in northern California. The L.A. guide is available as an online interactive map. The guides are a bit old (2001) although not really outdated since they refer to bicycle paths that still exist.
---
State and Local Government Agencies
Santa Monica Mountains - Many sites are accessible to some degree, but please call (805) 370-2301 to confirm. The National Park Visitor Center in Thousand Oaks and the Satwiwa Culture Center are fully accessible. Both of these centers have accessible exhibits.
California State Parks - Call for information, Accessibility Program, Disabled Pass, Accessible Trails, more. (General Information: 888-877-5379; TTY: 888-877-5378)
Channel Islands National Park - The mainland visitor center is fully accessible. Due to their isolation and transportation requirements, the islands are not readily accessible for individuals in wheelchairs or those with limited mobility. Efforts are underway to provide some wheelchair accessible areas on Santa Rosa Island via air transportation. Please call the park for information. (General information: 805-658-5730)
San Bernardino National Forest - Accessibility information. (General information: 909-383-5588)
---
More Resources
Hiking Trails - Maps and descriptions of some wheelchair accessible hiking trails in Southern California.
Nature Centers - Most of the listings in the Nature Centers section have a phone number to call if their website doesn't have the info you need.
NAVIGATION

L.A. Access: Outdoors (this page)

ADVERTISMENT