Rose Parade History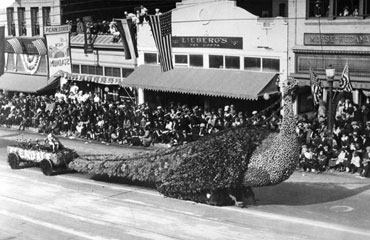 City of Glendale peacock float, 1920 Rose Parade
The Tournament of Roses Parade was founded in 1890, staged and sponsored by Pasadena's recently-formed Valley Hunt Club. The main idea behind the parade was for these new Californians to showcase their state's mild winter weather, a place where flowers bloomed all year long, in stark contrast to the places they left in the East and Midwest.
Before long, this small rose-themed festival expanded to include motorized floats that awed parade watchers, as well as equestrians and local school and community-based marching bands. Games were held in the town park and the whole city turned out for the event. In just a few years, the festival and parade had already gained national attention, with photos and articles about the parade appearing in large East Coast newspapers like the New York Times. The event's popularity resulted in the formation of a new Tournament of Roses Association in 1895, the same organization that still handles the organization of the parade today.
A football game was added in 1902, the first being played by Stanford and the University of Michigan. When Stanford suffered a crushing loss in that initial game, the football portion of the day's activities were cancelled but eventually returned in 1916. A new stadium for the event was built 7 years later and quickly earned the nickname "The Rose Bowl." The game has sold out every year since 1947!
Today, the Rose Parade and all the events organized around it draw tens of thousands to the Pasadena area and literally millions sit in front of the television to enjoy state-of-the-art floats with high-tech animation, covered with flowers from around the world. It's a fascinating and breathtaking sight.
NAVIGATION

Parade History (this page)

ADVERTISMENT