Tournament of Roses Parade - Events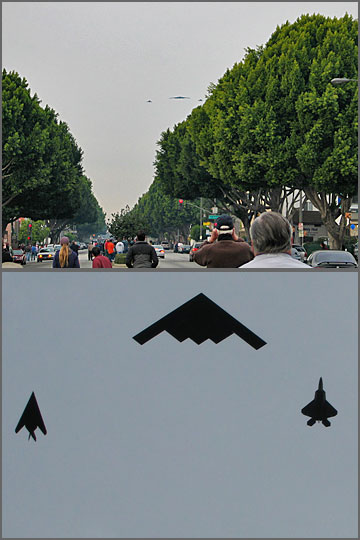 Stealth Jet Flyover before the Rose Parade
While the Rose Parade is at the center of Pasadena's New Year's Day festivities, much more goes on in the city during the days just before the parade. Lucky guests who arrive early will find plenty of parade-oriented activities to keep them busy until that special day arrives.
If the floats are at the center of your attention, then you may want to make time to watch the experts and volunteers put the finishing touches on these magnificent creations. For a small fee, during the three days just prior to the parade guests can visit one or more of the four locations where the floats are assembled and get a backstage glimpse of these marvelous designs before parade-goers and TV watchers see them on New Year's morning. For more info, visit the Float Decorating page at the Tournament of Roses website.
If you enjoy horses, the annual Equestfest is the event for you. Held at the Los Angeles Equestrian Center, guests at this festival can meet many of the equestrians set to appear in the parade a few days later. The horses and their riders perform drills and demonstrations of trick riding and roping. Entertainment and food and beverages are also part of the day's fare. A small fee applies to guests over the age of 5.
Even after the parade is over, you can still enjoy the floats up close by attending the post parade Showcase of Floats. This popular event sells out quickly and no advance tickets are available, as they are for the other events, so early arrival is essential. A special showing on the morning of January 2nd is reserved for seniors and mobility-impaired guests.
Also after the parade, the annual Bandfest allows guests to listen to the parade's award-winning bands in concert. Three shows are stretched over two days, providing plenty of time for everyone to enjoy the music.
NAVIGATION

Rose Parade Events (this page)

ADVERTISMENT