Santa Monica City Highlights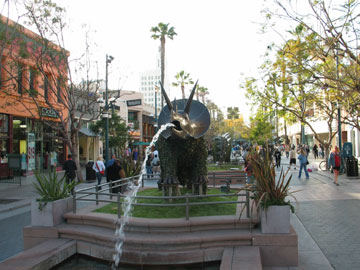 Third Street Promenade
About the City
At just 8.3 square miles in size, Santa Monica is a walker's paradise. Even though it's easy to explore on foot, however, Santa Monica also boasts one of the best public transportation systems in Southern California.
The Eight Districts of Santa Monica
The city begins at the beach and extends just 30 blocks east. Streets are assembled in an easily-navigated grid system, so visitors rarely get lost trying to find a new restaurant or favorite shop.
The Bayside District
(a.k.a. Downtown, encompassing the Third Street Promenade) - This is the city's premiere shopping and dining district. Here you'll find a number of well-known stores as well as local designer boutiques. The Third Street Promenade is a pedestrian-only area and Santa Monica Place is a traditional mall, both providing different shopping opportunities. Street entertainers are a common site throughout the Bayside District.
Mid-City
Home to some of the world's major movie, TV, and music companies (Sony, MTV, Universal), the Mid-City district has begun to gain a reputation as a center for the arts. Home to the Santa Monica History Museum, visitors to Mid-City can browse the history, art and culture of the Santa Monica Bay area. Dining is fun in Mid-City as well, thanks to its large concentration of British and Irish pubs.
Montana Avenue
The most likely district to spot a celebrity, Montana Avenue is home to many upscale fashion boutiques as well as stores that sell high-end furniture, accessories, and gifts. This quiet tree-lined street also boasts wonderful cafes, bistros, and bakeries - including many that are frequented by the "rich and famous."
Main Street
An easy walk from the beach, Main Street is a laid-back thoroughfare full of coffee shops and other small retail establishments. The California Heritage Museum is also located here. The crowning glory of Main Street, however, is the weekend Farmer's Market, where you can buy much more than fruit and veggies.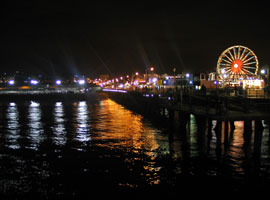 Santa Monica Pier
Santa Monica Pier
(including Ocean Avenue) - This is where you'll find the famous neon Santa Monica sign, often seen in movies and television. The Santa Monica Pier is home to an old-fashioned amusement park (Pacific Park), which boasts a number of historic rides as well as the first solar-powered Ferris wheel. Along Ocean Avenue, there's an abundance of art galleries, upscale eateries, and beautiful Palisades Park, which sits on the bluffs providing a stunning view of the ocean.
Ocean Park
Similar to Main Street in character, Ocean Park is home to small shops and cafes. Check out Bistro 310, a restaurant run by the culinary arts students at the Art Institute of California, for an affordable yet superb meal.
Pico Boulevard
This district at the southern end of Santa Monica is where the Santa Monica College is located and where the theater arts and music students at the college strut their stuff in excellent concerts and theatrical productions. There are also plenty of restaurants along the boulevard as well as a few boutiques, art galleries, and specialty shops.
Santa Monica Airport
If you're a lover of aircraft - both new and vintage - you'll want to make a visit to the Santa Monica airport, where many of the planes belong to wealthy Los Angelenos. The airport district also hosts an over-the-top Antiques Flea Market once a month.
NAVIGATION

Santa Monica Highlights (this page)

ADVERTISMENT