Santa Monica Beach Area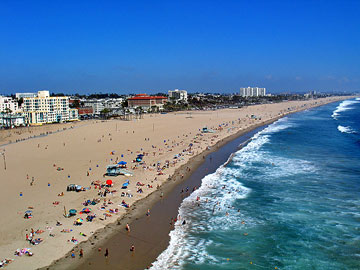 Santa Monica Beach near the Pier
Beaches
For many, the sole reason to visit Santa Monica is for its world-famous beaches. At about 3.5 miles long, the beach here has long-represented the healthy California lifestyle. You'll find plenty of tanned, buff bodies on these sands!
Santa Monica State Beach claims to enjoy about 340 days of sunshine each year, which is evident by the crowds that gather there on warm days, especially weekends. Despite the abundance of sunbathers, however, the city does a good job of keeping the beach clean.
Besides swimming, playing volleyball, and sitting on the sand, however, there are some additional attractions to explore at the beach.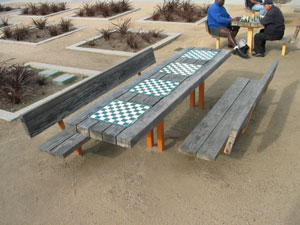 Chess Park, Santa Monica
The Bike Path - The longest beach path of its kind in the world begins in Santa Monica and travels 22 miles south to Torrance. If you enjoy biking or roller blading, this is a great way to see the beaches down the southern coast of the Pacific. The path is open to all non-motorized wheeled vehicles.
Chess Park - Not unlike New York City's Washington Square Park, Santa Monica's Chess Park is home to some high-anxiety chess games. The public chess tables here attract superb players and visitors are always welcome to watch - or join in if you can handle the pressure! Kids will like the human-scale chessboard painted on the sidewalk!
Muscle Beach - The original Muscle Beach was in Santa Monica. It is now located two miles away at the Venice Beach Boardwalk. Full of impressive fitness apparatus, Muscle Beach has been a gathering place for the "buff" since the 1930s, including famous names like Clark Gable, Tyrone Power, and Kirk Douglas. It's also been a favorite hang-out spot for fitness gurus, such as Jack LaLanne and Joe Gold, founder of Gold's Gym. There's also a padded gymnastics area for little ones.
NAVIGATION

Santa Monica Beach (this page)

ADVERTISMENT