Los Angeles Tourism Internships and Volunteer Opportunities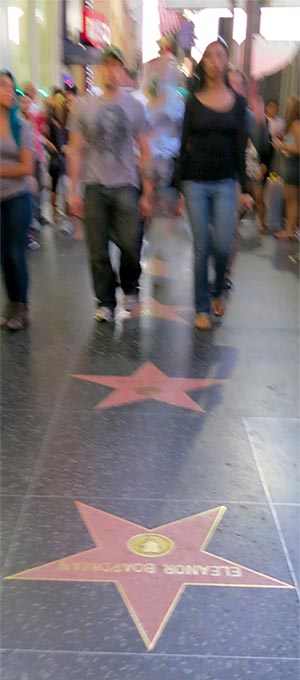 Exploring Hollywood Boulevard
LAtourist.com does not offer internships, fellowships, grants or volunteer opportunities. Here is a list of Los Angeles tourist attractions that offer such programs. Most are unpaid positions; many offer college credit, but others are simply volunteer positions, so carefully research each listing to ensure that it meets for your needs.
Reasons to choose Los Angeles for your internship
Diverse Cultural Environment: Our residents represent a wide range of cultures, and visitors come here from all over the world. No matter who you are, you'll feel comfortable in Los Angeles because everyone fits in here.
World-Famous Tourist Attractions: Universal Studios, Hollywood Boulevard, the Hollywood Sign, Santa Monica, Rodeo Drive, downtown L.A. and other famous tourist destinations.
Disneyland! Set aside at least two days for Disneyland and Disney's California Adventure.
The mild weather: Aaaah, the weather. It's one reason many of us live here! You'll love it.
Please share this list with your classmates. If you have additional tips or links related to Los Angeles tourism internships, please send them to Info@LAtourist.com
Internships at Major Los Angeles Tourist Attractions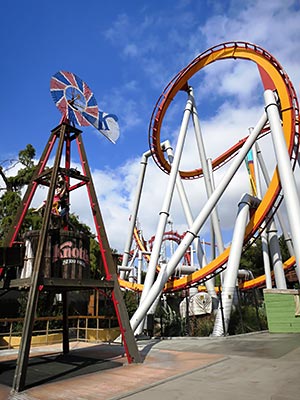 Knott's Berry Farm
Mayoral Internship Program internship opportunities are available in various departments of the L.A. Mayor's Office.
The L.A. Convention and Visitors Bureau occasionally has internships or other positions available on their Careers page.
Disney Professional Internships at Disneyland, and Walt Diney Imagineering
Los Angeles Museums - a list of internship opportunities available at museums throughout Los Angeles.
Knott's Berry Farm has internships available for Accounting or Finance majors. Apply through their corporate office at the Cedar Fair Entertainment Company.
Aquarium of the Pacific offers college internships year-round, in various positions related to running the park, caring for aquatic animals and sea creatures, and furthering the park's mission to protect and study the marine environment.
Santa Monica Pier Aquarium - the aquarium exists to preserve marine life and habitat within the Santa Monica Bay. The small aquarium attracts visitors from all over the world, due to its proximity to a major Los Angeles tourist attraction.
Opportunities at The Getty Foundation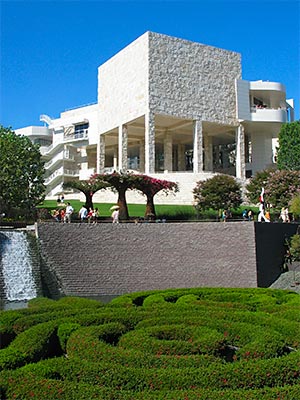 Getty Center in West L.A.
The Getty Internships & Fellowships - The Getty Foundation offers many internship programs that include the Getty Center and Getty Villa, as well as countless projects throughout the city of Los Angeles. Most are "unpaid" positions however many include a stipend. The Getty Foundation also offers Research Grants for scholars, academics and professionals.
Getty Foundation Leadership and Professional Development program graduate and undergraduate interns, as well as mid-career working journalists and museum professionals.
Residential Research Grants and Fellowships - Getty Scholar Grants, Doctoral Fellowships, Residential Grants, Library Research Grants, Conservation Science Grants.
Internships in The Arts
Los Angeles County Arts Commission Arts Internship Program - open to students who are enrolled in a college or university in Los Angeles county. Summer internships are available for many notable arts venues, including Center Theatre Group, the Performing Arts Center, Long Beach Opera and many more arts organizations.
L.A. Opera - Internships are listed on the Jobs/Auditions page.
Performing Arts Center - Volunteer Opportunities page. Internships are arranged through the County Arts Commission Arts Internship Program (see above).
L.A. Philharmonic Orchestra - Volunteer Opportunities page, includes the Hollywood Bowl. Internships (when available) are listed on the L.A. Philharmonic Jobs page.
Public Transportation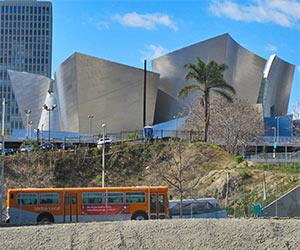 Metro Local Bus near Disney Hall
Metro Internship Program - related to public buses and trains.
L.A. World Airports (LAX) Gateways College Internship Program.
Hotels and Hospitality
Starwood Hotels Internships - Starwood Hotels include Westin, W Hotel, Sheraton, Four Points and others. First, second and third year students enrolled in hospitality programs can apply for summer internship opportunities.
Marriott Hotels - includes Renaissance Hotel. Examples of hospitality internship positions at Marriott include opportunities in rooms, food and beverage, accounting/finance, sales, and recreation. Occasionally there are internship positions available at corporate and regional offices in areas such as architecture and construction, finance and accounting, human resources, sales and marketing, revenue management, and information technology. Marriott's internship experience is a combination of practical work experience, task assignments, and an introduction to Marriott's corporate culture and workplace values. University internships are typically 10 to 12 weeks in the summer, fall, winter and spring sessions.
Internships in Santa Monica Mountains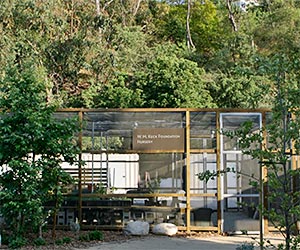 Keck Nursery at TreePeople
Santa Monica Farmers Market Interns and Volunteers.
TreePeople at Coldwater Canyon Park is dedicated to improving the environment by planting new trees in Los Angeles, and caring for exiting trees and greenery. For almost 40 years, TreePeople has been involved in an enduring effort to make our corner of the world a greener place. Coldwater Canyon Park is a great place for tourists to explore the Santa Monica Mountains without driving far. Other nearby tourist attractions are Mulholland Drive and the Getty Center.
Santa Monica Mountains National Recreation Area - the mountains that separate the L.A. basin from the San Fernando Valley. Some of the mountain range is located in Santa Monica, although it also includes Malibu, Pacific Palisades, Brentwood, Beverly Hills and Hollywood. The positions are offered by the U.S. National Forest Service.
Intern Opportunities near Griffith Park
Los Angeles Zoo Volunteer Program includes Internship Opportunities as well as a Docent Program, Keeper/Animal Care, and other ways to volunteer.
The Autry Museum of the American West offers internship opportunities to currently enrolled undergraduate and graduate students. If there is not an opportunity listed matching your interest, you are invited to submit a resume and cover letter detailing your related coursework to request an internship in another area.
Friends of the Observatory (Griffith Park Observatory) - Friends of the Observatory is an independent, non-profit conservation effort that supports Griffith Park Observatory by providing assistance, and brings more than 30,000 5th graders and other students to Griffith Observatory each year. Learn about volunteer programs on their website.
Entertainment, TV and Film Industries
If you are in one of these industries, your first few jobs are likely to be unpaid internships. There are literally hundreds of internship programs available in these industries, so the following list of major studios with internships is only a starting point.
AEG's Employment Opportunities page lets you upload your C.V. or resume. You can select "Internships" on the "Area of Interest" pulldown list. AEG is the producer for some major venues and hotels in downtown Los Angeles, including: STAPLES Center, Club Nokia, The Ritz-Carlton and JW Marriott Hotels, Microsoft Square at L.A. LIVE, Lucky Strike Lanes and Lounge at L.A. LIVE, The GRAMMY Museum®, and other tourist destinations.
Viacom Entertainment - includes many brands, such as CBS Studios, Paramount, MTV, Nickelodeon, Comedy Central and more.
Disney ABC Television Group - Various internships in Burbank and Los Angeles.
Fox Studios - Internships on their employment page.
NBCUniversal internship opportunities - News & Journalism, TV and Film Production & Development, plus supporting roles.
Sony Pictures - internships on their employment page.
Warner Brothers - click "Internship / Trainee" in the right-hand column on the list.
More Suggestions
Consulate General Offices often offer internships, or they might know of some in the local area. The list of Foreign Consular Offices in the U.S. is produced by the U.S. Department of State.
San Diego Zoo has internships for students as well as volunteer opportunities for everyone.
---