Southern California, Missions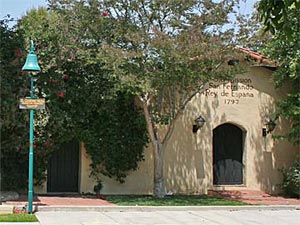 Old Mission San Fernando Rey de Espana, 1797
Mission Websites
Mission San Fernando Rey de Espana - Located in the northern San Fernando Valley. The grounds are open to visit, and there is a small gift shop. Tours can be arranged through the gift shop.
San Gabriel Mission - Founded in 1771, located in the east Los Angeles area. Visit the website to view the mission's history, gift shop hours and information about events and guided tours.
Missions North of Los Angeles
San Buenaventura Mission - Founded in 1782, located in Ventura, north of Los Angeles. History, events. The mission is open to visitors every day.
Old Mission Santa Barbara - Explore the museum, mausoleum, gift shop and historical mission church. Once or twice a month the museum offers the Mission Treasures Tour, a 90-minute walking tour to learn about the mission's architecture and artwork, as well as areas not normally open to the public.
Old Mission Santa Ines - Self-guided tour hours are available daily except for most holidays. Docent-led group tours are available but must be arranged in advance. The museum contains artwork, statues, documents manuscripts, and other artifacts that related to the Mission's history.
La Purisima Mission State Park - The site of Mission La Purisima Concepcion is a California State Park where the mission church and ten original buildings have been fully restored. The Visitor Center has historical displays and other exhibits. Self-guided tours, docent-led tours, and group tours are available. There is a picnic area, as well as nearby trails for hiking. Open daily (closed some holidays).
Mission San Luis Obispo de Tolosa - The gift shop and museum are open daily.
Missions South of Los Angeles
Mission San Juan Capistrano - Visitors will discover many areas of interest within the Mission walls. You can hear the tolling of century old bells and walk down its time worn paths. The serenity and peace amid the 10 acres of lush gardens and cool fountains, cloistered by old adobe walls, offers visitors seclusion from the sights and sounds of a busy world. Visit the Serra Chapel, Padres Quarters, Industrial Area, Soldiers Barracks, Cemetery and The Great Stone Church.
Old Mission San Luis Rey - The mission grounds, museum and gift shop are open daily. A special Behind the Scenes Tour occurs almost every Saturday. Group tours for 15 or more can be arranged in advance.
Mission San Diego - First of the 21 missions and known as the Mother of the Missions, Mission San Diego de Alcala was founded on July 16, 1769 by Blessed Junipero Serra. It was designated as a Minor Basilica in 1976 by Pope Paul VI.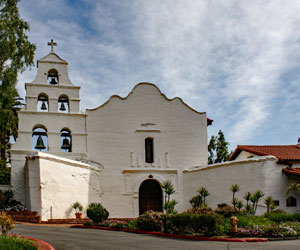 Mission San Diego de Alcala
Mission Research
California Missions Foundation - The California Missions Foundation is dedicated to the preservation, protection and maintenance of California's 21 historic missions. Site includes history of each Mission and driving directions.
California Mission Studies Assn - The California Mission Studies Association is a nonprofit group of historians, archaeologists, architects, preservationists, Native Americans and clerics devoted to the study and survival of the 21 California missions, presidios, adobes, pueblos, asistencias and ranchos dating from 1769.
California Missions Photo Tour - Photos of each of the twenty-one California Missions.
How the Sun Illuminates Spanish Missions On the Winter Solstice - Article produced by Smithsonian Magazine that describes how the rising sun shines on altars and other religious objects at many Spanish churches in the U.S. and Latin America on the shortest day of the year.