Los Angeles Tourist Accessibility: Amusement Parks

Los Angeles area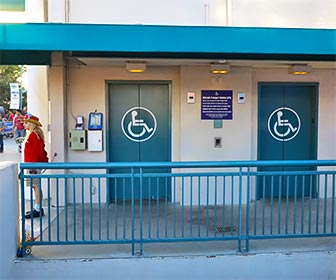 Universal Studios Alternate Transport Vehicle
Universal Studios - Many rides, shows, attractions, escalators and parking structures are designed to comfortably accommodate guests in a wheelchair or guests with other disabilities depending on their condition. There are designated guests-with-disabilities entrances for all attractions in the park. At the Guest Services window, detailed printed informational guides are provided for persons with disabilities. (General information: 1-800-UNIVERSAL)
(More information about Universal Studios Hollywood)
Magic Mountain - Manual wheelchairs are rented on a first-come, first-serve basis. Electric wheelchairs are not available. Download the Guests with Disabilities guide from the Park Services page.
Aquarium of the Pacific in Long Beach - All exhibits are wheelchair accessible. Wheelchairs are available at the Aquarium's Information Center. Elevators are located throughout the Aquarium. Assisted listening systems or captioning are available for Honda Theater presentations upon request. (General information: 562-590-3100)
Disneyland and Knott's Berry Farm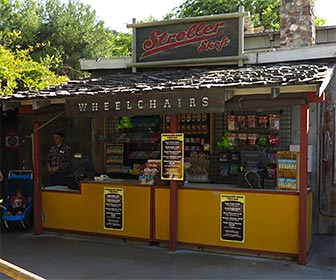 Stroller and Wheelchair Rentals at Knott's Berry Farm
Knott's Berry Farm - accessibility information about rides, dining facilities, parking and more. Electric wheelchairs can be reserved in advance (limited availability, 714-220-5495). Knott's General Info: (714) 220-5220.
(More information about Knott's Berry Farm)
Disneyland Accessibility - Disney's Guests With Disabilities section. (General information: 714-781-7290)
(More information about Disneyland)
San Diego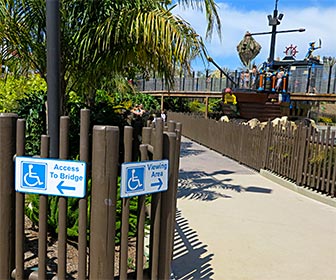 Accessible Paths at LEGOLAND, California
LEGOLAND®, California - Manual and electric wheelchairs are available to rent, although certain restrictions apply. Electric carts sell out early on weekends so arrive early to secure one. LEGOLAND® California's grounds and attractions are wheelchair friendly, with wide accessibility paths that are clearly marked. However the park is not flat so there are hills and ramps to navigate. The Sky Cruiser ride appears to require pedaling, but in fact it will operate on its own. General Park Information: 760-918-5346
Sea World, San Diego - Accessibility information, programs, events, phone numbers.
San Diego Zoo - The San Diego Zoo provides special parking, rest rooms, telephones (including TDD at the Security Office), and access to shows, tour buses, and exhibits for guests with disabilities. There are ASL "signed" bus tours available for the hearing impaired; please call in advance to arrange for an interpreter. Please note there are steep grades in parts of the Zoo, and assistance is recommended for those with limited mobility. A free shuttle bus operates inside the Zoo for those with limited mobility. Wheelchair and motorized wheelchair rentals are available for rental in the front plaza near the entrance. (General information: 619-231-1515; Access Coordinator: extension 4526, Monday through Friday)