Los Angeles Tourist Accessibility: Hollywood

Hollywood Boulevard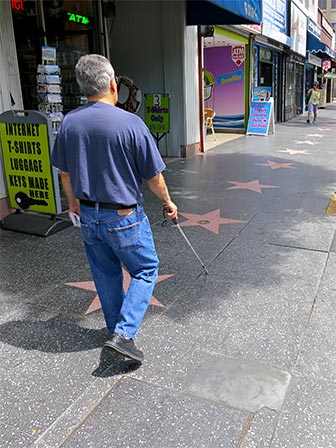 Hollywood Boulevard
Hollywood Boulevard - the sidewalk is wide enough for wheelchairs, and the curbs are ADA accessible at all intersections, many of which have crosswalks and electronic signals. All attractions are ADA compliant. Madame Tussaud's and Ripley's have elevator alternatives to stairs. Guinness World Record Museum and the Hollywood Wax Museum are on one level and easy to navigate.
However, at times the sidewalk can become crowded, making it difficult to get around, especially on the north side of Hollywood Boulevard, between Highland and Orange Avenues (near Ovation Hollywood Center). This includes the Chinese Theatre courtyard and the entrance to Madame Tussaud's. It gets most crowded in the early evening, although events can draw large crowds at other times of the day.
Also, in the afternoons it gets very hot on Hollywood Boulevard, so be sure to carry a bottle of water.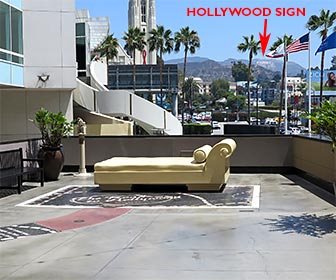 Accessible View of the Hollywood Sign
Hollywood and Highland Center - the walkways and courtyard are spacious, making it easy to get around. There are escalators and elevators to take you between levels.
The stairways at Hollywood and Highland Center are designed to accomodate high heels and evening gowns for the prestigious events held there. The steps are only about five inches tall, which is good news for those using canes. There are two areas to view the Hollywood Sign, both of which are easily accessible.
Accessibility is good all throughout Hollywood and Highland Center, but the nearby sidewalk on Hollywood Boulevard can become crowded, especially at night.
Chinese Theatre Courtyard - this is where you can find celebrity hand and foot prints in cement. It is fully accessible, with no ramps or ridges between the sidewalk and the courtyard. At times it can become very crowded, and difficult to move around. If you want to visit the courtyard when few people are present, go there in the morning before the other Hollywood Boulevard attractions are open.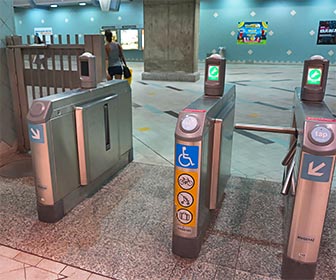 Turnstile at Hollywood & Highland Metro Station
Metro Red Line Train Stations - There is an elevator on Hollywood Boulevard to the right of the staircase that leads up to Hollywood and Highland Center.
Hollywood and Highland Station - There is an elevator on Hollywood Boulevard to the right of the staircase that leads up to Hollywood and Highland Center.
Hollywood and Vine Station - There is an elevator at the exterior of W Hotel, to the left of the escalators that lead down into the train station.
Metro Elevator Outages - a Twitter page where Metro announces elevator maintenance schedules, and alternate routes if you are impacted by the outage.
---
Universal Studios
Universal Studios - Many rides, shows, attractions, escalators and parking structures are designed to comfortably accommodate guests in a wheelchair or guests with other disabilities depending on their condition. There are designated guests-with-disabilities entrances for all our attractions in the park. At the Guest Services window, detailed printed informational guides are provided for persons with disabilities. (More information on Universal Studios Hollywood) (General information: 1-800-UNIVERSAL)