LAX Layover Tips

Click here to return to the list of LAX layover activities
---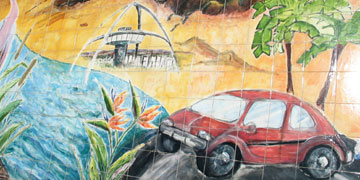 Encounter mural in Ballona Creek wash, Culver City
Transportation
Renting a car
With moderate driving skills and Google Maps for directions, driving is easy in Los Angeles. Renting a car offers convenience and could save you some time. It also offers you a place to store your luggage while you visit the attractions. However there are disadvantages as well: A rental car will probably cost more than public transportation. Some of the time you save will be offset by picking up and dropping off the car. You will need to locate and pay for parking (difficult and/or expensive at most destinations). Be sure to read the parking signs if you use street parking. You will need to fill up the gas tank before you return the rental. Most important, you will need to perform navigation on your own (some rental cars are equipped with navigation systems). Google Maps offers good directions for metropolitan Los Angeles routes.
International Drivers
Your valid country's driver license can be used in California. An international driving permit is not required, and not necessary if your license is issued in English or Spanish language. (For more information see: California Driver Handbook and find "Adults Visiting California").
Public Transportation
All of the activities described here can be reached by public transportation. You can use the Metro Trip Planner to view schedules and fare information for L.A. metro buses and trains (including Santa Monica, Culver City and other municipal bus lines). It's fast and easy to use. Simply visit Metro.net and you'll find the Metro Trip Planner on the top right side of the home page.
When you browse LAtourist.com's descriptions for each of the activities, you'll find a link to the Metro Trip Planner, and the exact 'To' and 'From' phrases you need to type into it.
Click here to visit the L.A. Metro Trip Planner
FlyAway Shuttle Service
FlyAway Shuttles are buses that provide transportation between LAX and specific destinations. You can take the FlyAway Shuttle to Union Station in downtown L.A., or Van Nuys in the San Fernando Valley. To get on the FlyAway, exit the airport terminal on the lower level (the Arrival level) and cross over to the island, then look for a green sign designated for FlyAway, Buses and Long Distance Vans.
Shared Ride Shuttle
A Shared Ride van is a service where you can share a ride with others who are traveling to the same part of the city. It is often less expensive than a private van.
Prime Time - Serves LAX, Burbank, John Wayne, Long Beach and Ontario airports.
Super Shuttle - Serves LAX, Burbank, John Wayne, Long Beach and Ontario airports.
Getting there by taxi cab
You can get a cab right outside of the terminal. Flat rate to downtown LA is $46.50. Fare to the closest destinations (Marina del Rey, Howard Hughes Promenade or Manhattan Beach) costs around $25 to $35. It costs around $70 to get to Hollywood using a cab, although the flat rate to West Hollywood is $40. A ride to the Getty Center costs around $60 and fare to Santa Monica Pier will be roughly $55. (* These fares are for one direction. Estimates are from TaxiFareFinder.com, June 2022). Taxis charge by 1/9 mile increments. They also charge to sit in traffic, so it will cost more during peak traffic hours. Fare is charged per carload, not per passenger, so all passengers ride for price of one, although maximums may apply.
in addition to the fares above, all trips from LAX incur a $4 surcharge.
Getting there by walking
LAX is not within walking distance of any tourist attractions.
Return Trip to LAX
On planning for your return trip to LAX, don't forget to allow an additional hour to get through security and walking through the terminal at LAX. International travellers might need two hours if it's busy. Keep your eye on the time during your excursion, and readjust your schedule as needed. Keep in mind that you may experience more traffic from 7AM-9AM and 4PM-7PM on weekdays, due to commuters who drive to and from work.
---
Luggage
Due to security concerns, there are no lockers at LAX. The best option is to check your bags in with your airline. There is a luggage storage service that includes pickup and drop-off service (LAX Luggage Storage), although this could become expensive if you have many bags.
Otherwise, you'll need to take your luggage with you. That can be cumbersome when travelling on a bus, or while visiting a tourist destination. If you take a guided tour, you might be able to store your luggage on the tour bus. If you rent a car you can store your luggage in the trunk.
---
LAX Layover Destination Suggestions
Hollywood: Getting to Hollywood is very simple: catch the FlyAway Hollywood shuttle from a bus stop outside your airline terminal at LAX. Then walk, take a bus or get on the Red Line to Hollywood and Highland, where you will find most of the attractions in the Hollywood Entertainment District on Hollywood Boulevard. There are enough activities on Hollywood Boulevard to keep you entertained for hours. Don't forget to take a picture of the Hollywood Sign - there's a great view from the third and fourth levels of the Hollywood and Highland entertainment complex.
The Beach: Santa Monica has more activities and sites than the other beaches that are within easy reach. It's very easy to get from LAX to Santa Monica Place. From there you can walk to the Third Street Promenade and the Santa Monica Pier. Venice Beach is a pleasant half hour walk (each way) from the Pier, south along the coast. In the evening, DO NOT miss the sunset from Palisade Park that overlooks Pacific Coast highway (PCH) and the Pacific Ocean. Beaches other than Santa Monica: Marina del Rey is closest to LAX. Hermosa Beach is also within reasonable distance and has a nice beach area for swimming and water activities. They all offer dining, entertainment and nightlife.
Quick Getaway: If you only have a few hours to spend, try Westfield Culver City mall, where you can eat in a nice restaurant and shop a variety of stores. It only takes about 20 minutes to get there by bus.
---
Click here to return to the list of LAX layover activities
---