LAX Airport to Hollywood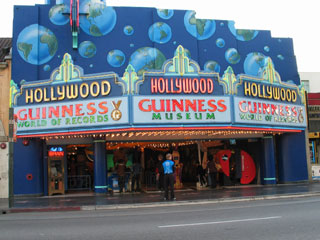 Guinness Museum on Hollywood Blvd
You can take the Metro to Hollywood to see the Walk of Fame (stars inlaid on Hollywood Blvd), the footprints in the courtyard of Grauman's Chinese Theatre, and more. Hollywood and Highland is an outdoor shopping center featuring stores, restaurants and the Dolby Theatre. You can get a great view of the Hollywood sign from various points in the courtyard of Hollywood and Highland. You will need at least 2 or 3 hours to explore the tourist areas of Hollywood Boulevard.
You can also catch a Guided Tour from Hollywood Boulevard, if you have time. Some tours last all day, while others take only an hour or two.
Getting There
From LAX, a bus ride takes 60-80 minutes each way.
Summary: From the lower level, take Shuttle G to the Metro Rail Greenline Shuttle, then to the Greenline Station. Transfer to t Harbor Transitway and take a bus to 7th Street Metro Center. From there, take the Red Line train to Hollywood. See the Metro Trip Planner for details.
Click here to visit the Metro website for bus schedules
On the Metro website's home page, use the Metro Trip Planner:
From: LAX
To: Hollywood/Highland
The Metro Trip Planner displays schedules and fare information for L.A. Metro buses and trains. It's fast and easy to use. Simply visit Metro.net to find the Trip Planner on the home page.
Time Estimate
If you want to stroll around Hollywood Blvd, visit some shops, view stars on the sidewalk, look at the footprints in the cement, and get something to eat, give yourself at least 2 or 3 hours, plus travel time, plus an additional hour (two hours for international flights) to get through security and walking through the terminal at LAX.
---
Click here to return to the list of LAX layover activities
---