West Third Street Shopping District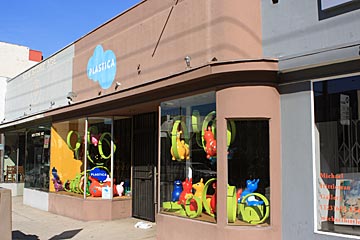 Plastica on West Third Street
It may not be as well known as Rodeo Drive or Melrose Avenue, but West Third Street (website) holds its own when it comes to hip boutiques and topnotch eateries. One of the city's hottest shopping districts, this spirited street has a loyal following among twenty- and thirty-something locals and A-list celebrities.
Although West Third Street itself extends from Beverly Hills all the way to Downtown, its main hub is located in between La Cienega Boulevard and Fairfax Avenue; the central strip is bordered by the Beverly Center and The Grove, respectively. Parking options in the area are limited, so visitors are forewarned to bring a roll of quarters for street parking or a wad of cash for valet service.
When it comes to shopping, West Third Street raises the bar, offering a crop of indie shops that are refreshingly free - for the most part -- of elitist attitudes and inflated price tags. One of the neighborhood's chicest boutiques is Hillary Rush, which features a stellar selection of both emerging and established brands at all price points. Both vintage and modern pieces can be found at the two adjacent stores comprising Polkadots & Moonbeams (website), open since 1982. As for eveningwear, Kristin Londgren (website) has fashionable females covered with her one-of-a-kind cocktail and wedding dresses.
In terms of dining, West Third Street boasts a diverse array of both upscale and affordable options. The area's most frequented eatery may very well be Toast Bakery Cafe (website), which has graced the pages of US Weekly countless times thanks to its cavalcade of celebrity fans; come Sunday brunch, Toast is packed to the brims with Angelenos adorned in oversized sunglasses who are willing to wait it out for their favorite omelettes. Area gourmands flock to cafe-marketplace Joan's on Third (website), which serves up made-to-order sandwiches, baked goods and pre-prepared foods aplenty. Another foodie favorite is A.O.C., a sophisticated wine bar with exceptional wine and cheese menus. And for those celebrating very special occasions, the acclaimed restaurant Bianconi (website) is the gold standard. Meanwhile, those looking merely to let loose can head to festive Mexican bar El Carmen.
Without a doubt, West Third Street's one-of-a-kind boutiques and eateries make it a worthwhile destination - and a great place to soak up the flavor of the city.
---
Nearby Shopping: The West Third Street shopping district is situated between The Grove and Beverly Center. The distance is around one mile. If you want to walk from one shopping mall to the other and meanwhile browse shops on West Third Street, then it will be easier to park at The Grove and walk west to the Beverly Center. There are two main reasons:
It's easier to park at The Grove than at the Beverly Center
It's a downhill walk from The Grove to the Beverly Center (you can take a bus back to The Grove)