Free Visitors Guide from Los Angeles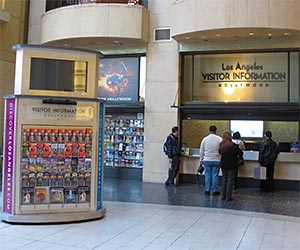 City: Los Angeles
Attractions: Beaches, Mountains, Shopping, Countless Tourist Attractions, Museums, Amusement Parks, Fine Dining, Filming Movies, Hollywood
Publication(s) available: Los Angeles Visitors Guide - over 100 pages, available as an online full-color publication.
How To Order:
Go to the Los Angeles Tourism and Convention Board website
(click the link above to open a new window)
Look for a link at the bottom that says "Travel Guides & Store".
Fill out the form, to download a digital copy of the Los Angeles travel guide.
Los Angeles Tourism and Convention Board
333 South Hope Street, 18th Floor
Los Angeles, CA 90071
(213) 624-7300 option 2
(323) 467-6412
---
Click here to return to the Free Publications page