Beverly Hills Attractions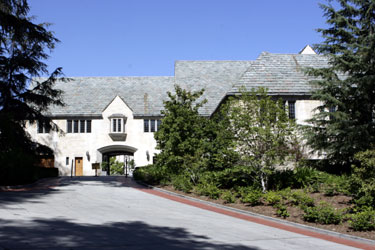 Greystone Park and Mansion
In addition to shopping and dining, one of Beverly Hills' main attractions is its sprawling estates. Of these, Greystone Park and Mansion is not only the largest, but also the only one available to the public. Occupying sixteen acres, this 55-room castle was built in 1926 by oil tycoon Edward Doheny. It has made appearances in a crop of Hollywood films, including Indecent Proposal, Spider-Man, X-Man and more. Owned by the City of Beverly Hills, visitors can take a peek at this spectacular mansion free of charge. Greystone Park & Mansion's lush gardens and panoramic views make it a refreshing oasis in the bustling city of Beverly Hills.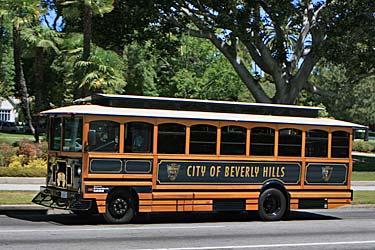 Beverly Hills Trolley Tour
Those hoping to take all of Beverly Hills in can opt to go on the Beverly Hills Trolley Tour. This 40-minute narrated tour provides insight into the different aspects that add to the city's timeless appeal.
If you seek fine dining and a chance to rub elbows with celebrities and LA's most rich and famous, you'll find fabled Beverly Hills restaurants on and near Rodeo Drive, such as Mr. Chow's, Wolfgang Puck's Spago, Crustacean and CUT at the Beverly Wilshire hotel. Most require advance reservations. For more dining options, head on over to Beverly Hills Restaurant Row on La Cienega Boulevard between Wilshire Boulevard and Beverly Drive. There are restaurants ranging from fast food and diners, up to high-end restaurants such as The Stinking Rose and Nobu Matsuhisa's Japanese restaurant. You can find a list of restaurants in Beverly Hills at the Beverly Hills CVB website.
Paley Media Center -Exhibits related to television and radio history, covering formats ranging from news, entertainment, public service and even advertising. See the "public Programs" tab for a list of presentations and events.
Beverly Hills Conference and Visitors Bureau
239 South Beverly Drive
Beverly Hills, CA 90212
800.345.2210
NAVIGATION

Beverly Hills Attractions (this page)

ADVERTISMENT