Attractions near the Fashion District in Downtown L.A.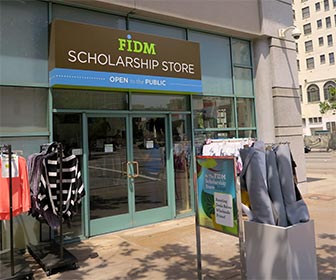 FIDM Scholarship Store
Fashion Institute of Design and Merchandising
One of the top trade schools with a curriculum based on the field of fashion design, including clothes, textiles and crafts. A gift shop is open to the public.
Admission: Store/Shop/Mall
Address: 919 S Grand Ave, Los Angeles 90015
L.A. Fashion District
The largest concentration of fashion-related businesses in the Western United States. The Fashion District occupies a huge section of the eastern part of downtown Los Angeles. On their website, you can view a map that shows what type of clothing (Men's Wear, Women's Wear, Accessories, etc) can be found in each section of the District. Many stores sell to Wholesale buyers only (signs are usually posted). Many stores accept cash only. Santee Alley is a gathering place for countless vendors selling clothes and merchandise. The alley is between Santee Street and Maple Street, starting at Olympic Boulevard. Santee Street is one block east of Los Angeles Street. (Beware: there are disreputable merchants selling counterfeit goods in the Alley, along with undercover police, looking for them.)
Admission: Store/Shop/Mall
Address: 110 E 9th St, Los Angeles 90079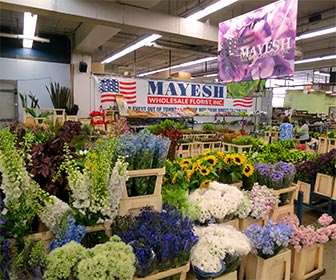 Inside the Flower Market in downtown L.A.
L.A. Flower Market
The largest flower market in the US. The general public is able to shop the flower market after the retailer buyer shift is over (see the Flower Market website for a schedule). There is a small admission fee. The market is located near the Fashion District, and opens to the public early in the morning, and closes at noon. It is not open on Sundays.
Admission: Ticketed
Address: 754 Wall St, Los Angeles 90014
Clifton's Cafeteria
The oldest cafeteria-style restaurant in L.A., Clifton's offers a deli menu in a building that's also a historical monument.
Admission: Store/Shop/Mall
Address: 648 S Broadway, Los Angeles 90014
The Orpheum Theatre
A neo-classical style theatre that is the site of concerts, performances and other live events, many of which are open to the public. See the website's event calendar to view the current schedule.
Admission: Ticketed
Address: 842 S Broadway, Los Angeles 90014
The Belasco Theater
A restored theater that is the location of public shows and events, as well as private parties. See the website's calendar for details.
Admission: Ticketed
Address: 1050 S Hill St, Los Angeles 90015