Westside Pavilion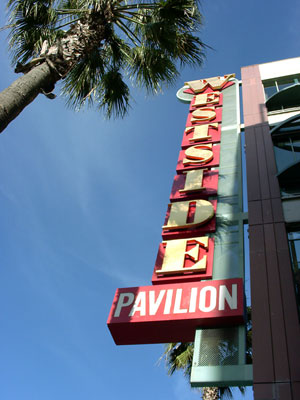 Westside Pavilion Shopping Center
NOTICE: Most of Westside Pavilion is closed. Only the theater and a restaurant remain.
Westside Pavilion (website) ranks as one of the most affordable shopping centers in Los Angeles. Located in West Los Angeles, this three-story mall features 150 stores, two department stores and a movie theater. It may not be as upscale as Century City or have as many designer stores as the Beverly Center, but its selection of reasonably priced shops makes it a destination for locals and tourists who want to buy something within their budget, rather than max out their credit cards.
A staple in the Los Angeles shopping scene since 1985, the Westside Pavilion has its own rich history. Prior to the shopping center's opening, the land was occupied by a mini-mall and a May Company that later was incorporated into the mall. Part of the current mall occupies the site of the Pico drive-in movie theater, which was the first of its kind in California. The mall's exterior was designed by the same architect who designed structures for the 1984 Olympics in Los Angeles, and its '80s aesthetic is still present today. Since opening, there have been three major renovations to expand the Westside Pavilion's offerings and update its look. The shopping's center glass roof, tile floors, and walkways and bridges distinguish from its competition.
The shopping center has played a role in films and music videos throughout its 25 years. It was depicted as the site where Alicia Silverstone and her friends went shopping in Clueless, and it was featured in Tom Petty's music video for "Free Falling." More recently, Howie Mandel selected an employee from the mall's Hot Dog on a Stick for an episode of Deal or No Deal.
Shoppers will be satisfied with the Westside Pavilion's extensive selection of brand-name stores, which includes mall staples like Ann Taylor, Banana Republic, BCBG Max Azria, Foot Locker, Forever 21, GapKids, H&M, Hot Topic, Nine West, Victoria's Secret and more. Anchoring both ends of the mall are its department stores: Nordstrom and Macy's. Without a doubt, when it comes to shopping, Westside Pavilion offers something for every member of the family.
Meanwhile, the food court here is almost always bustling. It is comprised mostly of fast-food and fast-casual eateries such as La Salsa, Great Khan Mongolian Grill, McDonald's, Panda Express, Sbarro and more.
However, gourmet fare is available by way of Westside Tavern. Located on the ground level of the mall's newest wing, this upscale restaurant serves up inventive California-style dishes, as well as fresh cocktails and artisanal wines. It has quickly garnered a loyal following among gourmands from all parts of the city.
Next to Westside Tavern is a 12-screen Landmark Theatre, the flagship of the indie movie theater company. Spanning two levels, The Landmark makes for one memorable movie-going experience: It offers tasty treats, a wine lounge, and even a "living room" theater with love seats.
Rounding out the mall's offerings is a Barnes & Noble, positioned next to The Landmark. Here, moviegoers can browse books before their films start, and shoppers can find respite from the hustle and bustle that characterizes the Westside Pavilion.
Westside Pavilion
10800 West Pico Boulevard, Los Angeles
(intersection of Pico Blvd and Overland Ave)
M-F: 10 AM - 9 PM
SAT: 10 AM - 8 PM
SUN: 11 AM - 6 PM
Return to List: Los Angeles Shopping Centers and Malls

---
Short links to this page: https://LAtourist.com/CenturyCityMall -or- https://inLA.us/CentCity
---