Shopping on Melrose Avenue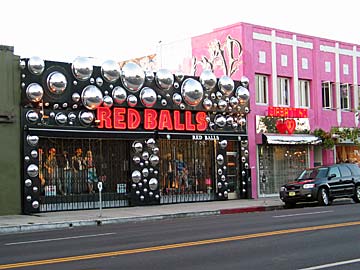 Shops on Melrose Avenue
Melrose Avenue is a hodgepodge of all that encompasses L.A. This diverse district manages to be eccentric and mainstream, affordable and upscale, and grungy and glamorous all at once. The one constant about this vibrant, lively block is that its shopping, dining and people-watching are second to none.
A major thoroughfare, Melrose Avenue spans from Santa Monica Boulevard - on the cusp between Beverly Hills and West Hollywood-all the way to Lucille Avenue in Silver Lake. However, its most well-known section runs from Highland to Fairfax Avenue. West of Fairfax, the street transforms from funky to fancy. North of Melrose Avenue's intersection with La Cienega is Melrose Place, which, of course, is famous in its own right thanks to a certain T.V. show.
The eastern end of Melrose Avenue became a go-to destination in the '80s for its grunge culture. It has continued its reign of all things vintage and alternative since then, although today is also lined with several mass-market stores like American Apparel and Urban Outfitters, not to mention Starbucks. Secondhand clothing stores are a dime a dozen in this district: Aardvark's Odd Ark has been an L.A. institution for more than 20 years, and, additionally, Crossroads Clothing Company, Wasteland and American Vintage also have stellar selections; further, Fairfax High School hosts a first-rate flea market on Sundays. Meanwhile, Melrose Avenue features a crop of one-of-a-kind indie stores, including the shoe store Sportie LA, art-clothing shop SURU (owned by a member of Linkin Park), Moist Wear (clothing store where Michael Jackson shopped), toy store Munky King, trendy-yet-affordable boutique Chantell and more. Of course, there are also vinyl stores, tattoo parlors and body piercing shops galore here.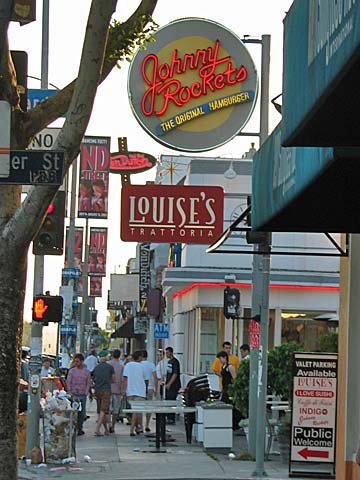 Johnny Rockets on Melrose Avenue
Located in the center of all the excitement is the original Johnny Rocket's, which is often packed with tourists and teens. Those seeking more authentic eateries need not fret: There is a range of only-in-L.A. eateries including 8 Oz., The Foundry, Village Idiot and more. Located on the corner of Highland and Melrose are the acclaimed sister restaurants Pizzeria Mozza and Osteria Mozza from star chefs Nancy Silverton, Mario Batali and Joseph Bastianich.
Heading west of Fairfax, Melrose Avenue assumes a far more upscale feel. When it comes to shopping, one of the main attractions is Fred Segal, the preferred store of Paris Hilton and other celebutantes. Other standouts are Agent Provocateur, Betsey Johnson, Original Penguin, Creatures of Comfort, Theory, Foley & Corinna, Diane von Furstenburg and more. Should shoppers go hungry, there are numerous high-end eateries on this section of the street, such as Comme Ca, Mortons, Lucques, Cecconi's and Ago Restaurant. At the corner of Melrose and La Cienega is the Pacific Design Center, home to approximately 130 design showrooms, two Wolfgang Puck-operated restaurants and a branch of the Museum of Contemporary Art; not surprisingly, many interior design shops are located near it.
Slightly north of this area, Melrose Place is a three-block offshoot of Melrose Avenue that is a haven for fashion hounds. Here, posh retailers like Marc Jacobs, Monique Lhullier, Carolina Herrera, Mulberry can be found alongside a handful of antique dealers. This part of town may be only a mile or so away from the punk stores and piercing shops, but it feels like a different world.
---
Return to Hollywood Shopping page