Malibu Beaches

There are twenty-four beaches in Malibu, and most of them are north of the Cross Creek Road area. Here are some of the beaches in Malibu that are of interest to tourists.
Beaches Between Malibu and Santa Monica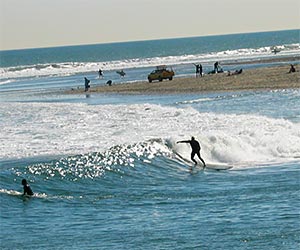 Malibu Surfrider Beach
Topanga Beach - This is one of the most convenient beaches in Malibu, whether you are coming from Santa Monica or the San Fernando Valley. Topanga Canyon Blvd spans from Pacific Coast Highway, all the way to Chatsworth at the north-western side of the Valley. [Pacific Coast Highway at Topanga Canyon Blvd].
Cross Creek Road Area (Eastern Malibu)
Malibu Lagoon State Beach - Also known as Surfrider Beach, the beach is famous for producing perfect waves for surfing. You can watch surfers from the Pier. The beach is currently operated by L.A. County Beaches. This is where you can find the Adamson house Malibu Lagoon Museum, the Malibu Pier and Surfrider beach. The county's Surfrider Beach web page has information about parking costs.
Near Kanaan Dume Road (Central Malibu)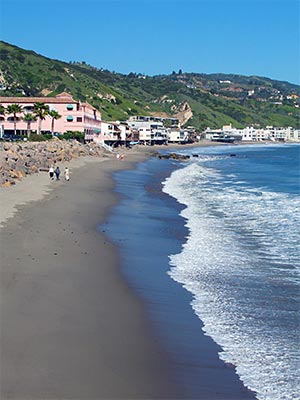 Malibu Coastline
Paradise Cove Beach - Filming spot for Baywatch and other famous TV shows and movies. A sandy beach with a nearby cafe and restaurant. The beach is secluded from Pacific Coast Highway. To get there, you need to turn from PCH onto Paradise Cove Beach Road.
Point Dume State Beach - A wooden path leads to a viewing platform where you can spot whales during cooler months.
Zuma Beach - A long, sandy beach that is perfect for beach activities like swimming, sunbathing and volleyball. Even though it's further than other beaches, this is one of the most popular beaches in Los Angeles.
Beaches in Western Malibu
Leo Carrillo State Park and Beach - Leo Carrillo State Park has 1.5 miles of beach for swimming, surfing, windsurfing, surf fishing and beachcombing. The beach also has tide pools, coastal caves and reefs for exploring. The park also features back-country hiking. [Pacific Coast Highway at Mulholland Highway].
Point Mugu State Park and Guadalasca Trails - Point Mugu is most noted for the large rock formations on Pacific Coast Highway. The Point Mugu State Park features five miles of ocean shoreline, with rocky bluffs, sandy beaches, sand dunes, hiking and nature. If you've made it to Point Mugu and you still have plenty of time to drive, then Oxnard is only another 15 minutes north on Highway 1, and Ventura is only another 15 minutes from Oxnard.