Los Angeles Bus Services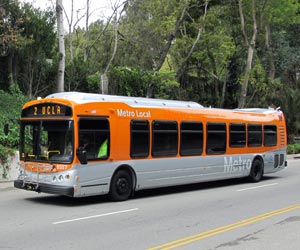 Metro Bus near UCLA
Bus Lines in Tourist Areas
L.A. Metro Public Buses and Trains
Metro (Public Buses and Trains) - The Los Angeles County Metropolitan Transportation Authority operates the third largest bus fleet in North America with more than 2,300 buses. L.A. Metro's subway system can take you from Downtown Los Angeles to Hollywood in less than 15 minutes! Metro's website has extensive schedule information, the Trip Planner, how to get to some of the famous tourist attractions, much more. If you are going to rely on public transportation while visiting Los Angeles, then become familiar with this website! Telephone: 323.GO.METRO (323) 466-3876)
More Bus Lines Near L.A. Tourist Attractions
Burbank Bus - Maps and schedules, trip planner.
Culver City Bus - Bus Routes and information.
Santa Monica Big Blue Bus - Santa Monica, Westside, LAX airport, downtown L.A. and more. The website offers a system map, routes/schedules, fares, service bulletins and more.
WeHo Pickup Trolley - Free trolley service on Santa Monica Boulevard, between La Brea Avenue and Robertson Boulevard, Friday and Saturday nights, as well as some holidays and celebrations.
West Hollywood CityLine Shuttle - A free mini bus servicing areas of West Hollywood and nearby. It's a friendly and accessible alternative to the larger bus system, and is open to the general public.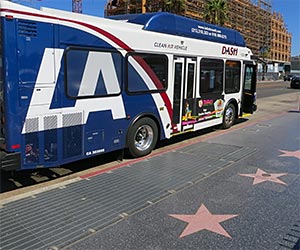 DASH Bus on Hollywood Boulevard
L.A. Dept of Transportation (L.A. DOT) - Operates DASH and Commuter Express bus routes. DASH buses are low-cost shuttles that make short trips throughout parts of downtown L.A. and Hollywood.
Long Beach Transit - Long Beach Bus Maps, Schedules and information. Live bus tracking.
Topanga Beach Bus - Connecting the San Fernando Valley with Topanga Beach and Santa Monica Pier.
Pasadena Area Rapid Transit System (ARTS) - Bus service offering six routes between residential neighborhoods and business centers. Includes schedules, parking, fares, and maps.
Torrance Transit - Bus Routes and Schedules. Torrance Transit offers routes connecting Torrance to areas of Los Angeles and Long Beach.
Beach Cities Transit - Bus service for Redondo Beach, Hermosa Beach, Manhattan Beach, and El Segundo, with routes connecting to LAX airport and the Metro Green Line train station.
More Bus Lines in Los Angeles
Antelope Valley Transit - Palmdale, Lancaster - Bus Schedules, get passes online.
Cerritos On Wheels - Bus schedules and information. Near Long Beach.
El Sol - Schedules and information. East Los Angeles.
Foothill Transit - (Pomona and San Gabriel Valley) - Bus schedules, maps, passes & fares or plan your trip with TranStar.
Gardena Municipal Bus Lines - Bus Maps, Schedules and information.
Glendale BeeLine - Bus Schedules, Real-Time Bus Arrival Information.
Montebello Municipal Bus Lines - Bus Maps, Schedules and information.
Norwalk - Norwalk Transit info.
Santa Clarita Transit - Bus Maps, Schedules and information.
Simi Valley Transit - Provides commuter bus and paratransit (ADA) transportation within the Simi Valley area, including connections to Chatsworth and Thousand Oaks.
Bus Agencies from Outside of L.A. County
Orange County Transportation Authority - Maps and schedules, trip planner, Freeway and street info.
Riverside Transit Agency - Bus Schedules, trip planner and other information.
Ventura Intercity Service Transit Authority - VISTA operates seven regular bus routes and two general public dial-a-ride services within Ventura, Oxnard, Camarillo, Santa Paula and the surrounding area.
Greyhound - Bus Transportation between Los Angeles and various destinations throughout the United States.