Haunted Hollywood

Hollywood Ghosts and Hauntings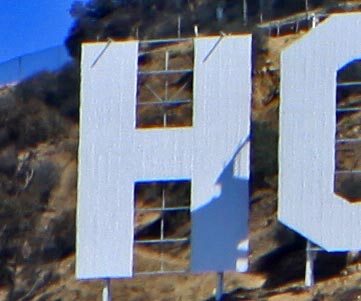 Peg Entwistle jumped from the letter "H"
Haunted Hollywood - by Evelyn Barge. Ghosts have always been a favorite topic in Hollywood, where horror films often produce huge box-office figures. But aside from the smoke-and-mirrors effects of movie studios, the city of Hollywood is purported to possess some real-life specters of its own. Follow the link to read about a sampling of Hollywood's most-haunted hot spots and the legendary ghosts who inhabit them.
Haunted Landmarks and Ghost Stories - A list of 20 haunted tourist attractions, accompanied by an interactive map. The spooky landmarks are found in Hollywood, downtown Los Angeles, Culver City and other locations tourists are likely to visit.
Hollywood Ghosts and Haunted Houses - stories about ghosts and haunted places and in Hollywood and Los Angeles.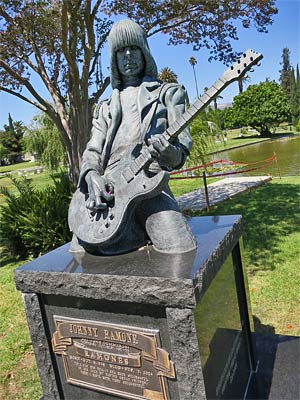 Johnny Ramone grave, Hollywood Forever Cemetery
Hollywood Gravesite Links
Find a Grave - A comprehensive gravesite finder. This website contains gravesite locations, including GPS coordinates, as well as trivia about the famous person. To find the gravesite of a specific actor, use the Famous Grave Search. To view an alphabetical list of famous graves, first click "Browse by Location," then choose "USA - California." On the resulting page, change the pulldown menu on the right side to "Filter by fame level: Very Famous" To find where some famous animals, use the Famous Grave Search and search for: Animal Actor
Hollywood Forever Cemetery - Founded in 1899, it is the resting place of hundreds of Hollywood's greatest stars. Recently refurbished to its original splendor, the cemetery attracts visitors from all over the world. On Saturday evenings during the summer, Cinespia shows classic films at the cemetery.
Pierce Brothers Westwood Village Memorial Park Cemetery - This cemetery is located near UCLA, about 8 miles west of Hollywood. It contains graves of many famous celebrities, including Marilyn Monroe, Dean Martin, Natalie Wood, Jack Lemmon, Truman Capote, Farrah Fawcett, Billy Wilder, Walter Matthau, Heather O'Rourke, Burt Lancaster, Roy Orbison, Don Knotts, Dominique Dunne, Rodney Dangerfield, Eva Gabor, Bettie Page, Frank Zappa, Merv Griffin, Donna Reed, Eddie Albert, Peter Falk, Fanny Brice, Mel Torme, Carroll O'Connor, Buddy Rich, Darryl F. Zanuck, Peggy Lee, Sage Stallone, Brian Keith, John Cassavetes, Jim Backus, James Coburn, George C. Scott, Lew Ayres, Eve Arden, Sebastian Cabot, Karl Malden, Richard Dawson, Sidney Sheldon, Robert Stack, Richard Conte, Eric Douglas, Will Durant, Jonathan Harris, Paul Gleason, Christopher George, and others.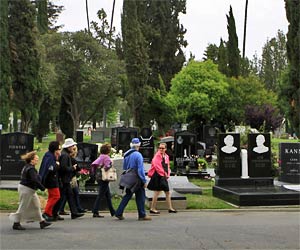 Hollywood Forever Cemetery Historical Tours
Haunted Hollywood Tours
Hollywood Forever Cemetery Historical Tours - guided by historian Karie Bible, a 2-hour+ walking tour at Hollywood Forever Cemetery. Three tours are available. Tours are normally offered on the weekends but check the schedule for a full listing. In Hollywood, this is an ongoing attraction.
More Haunted Hollywood Tours - including paranormal walking tours, bus tours and ghost hunting tours in Hollywood, Santa Monica, San Diego and more.