Tips for Guided Tours of Los Angeles and Hollywood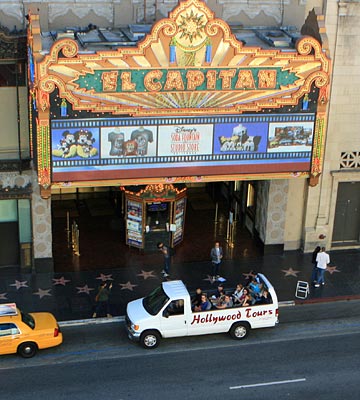 Hollywood Exchange tour company on Hollywood Boulevard
TL;DR: Take a bottle of water!
Parking
The tour providers are scattered along a long stretch of Hollywood Boulevard, so try to find a parking lot near the tour company. For example, if you park at Hollywood and Highland Center and the tour departs near Hollywood and Vine, then you'll have a long walk back to the car after the tour ends.
Read parking signs carefully! It's not likely to find metered parking over two hours, so you will probably need to park in a lot, which should cost around $10.
Arrive Early!
If you already have reservations, try to get there at least 30 minutes early in case you get delayed by traffic in the Hollywood area. Also allow time to park and walk to the tour kiosk. It can take longer to walk on Hollywood Boulevard than other city streets.
If you arrive early, you can check out attractions on Hollywood Boulevard. But if you arrive late then you might miss the tour. Check your tour company's policy for missed tours. Some will allow a tour on a later van, while others might not allow a makeup tour or refund.
If you do not have reservations, try to get there early in the day because tours do book up, especially in the summertime.
Water and Snacks
You are allowed to bring food and drinks with you, so take a snack if desired and most important, take a bottle of water for each person in your group (2-3 hour tours), especially in the summertime. Consider taking extra water plus additional snacks for longer tours.
Open Top Vans
Open Top Vans offer better views of the attractions, but they also expose you to the weather. In Southern California, that usually means the hot sun. So be sure to wear sunscreen, plus clothing that will protect you from the elements. A hat can help prevent a headache caused by the sun (select a hat that won't fly away when the van is moving fast). Long pants might be useful to avoid sunburned legs. If you do wear shorts on an open-top guided tour, be sure to take a towel, cloth or handkerchief to place on vinyl seats that can become heated from sunlight. On colder days, wear a jacket that can stand up to strong wind. The van might have a limited number of blankets for passengers, or you can bring your own.
Where to Sit
Vans normally have bench seats that will accommodate 3-4 passengers. A typical van holds 12 passengers. Usually, friends and family are seated together. Pre-pandemic they would fill all of the seats.
Right Side versus Left Side
There is not really a "best" side, because there are attractions on both sides. But if there is an attraction for which you really want a good view, ask the driver to seat you accordingly. The only other consideration is that the van drives on the right side of the road, so if you are on the right side you will be closer to those attractions with less obstruction from other cars on the road. If you are on the left side, you will be more centered but also will experience more obstructions when you try to take pictures. But you can get good views from either side.
Front or Back?
Bench seats in the front have the least wind (in open top vans), while bench sets near the back have the best view. The row farthest in back usually can seat four people.
The Navigator Seat
If the van is full and you are riding solo, you might end up sitting in the passenger seat next to the driver. The only advantage is the ability to reach around in front of the van with your camera, to take forward-facing pictures that no one else will get. You also get a good view of attractions on the right side. The disadvantage is a reduced view of attractions on the left side, because the driver or other passengers will always end up in your picture. Take all this into consideration, and if you don't want to sit there, let them know when you pay for the tour (before they start seating people) that you want a seat in the main portion of the van. Or for your own reasons, you might want that seat. It's not a bad seat, but this is here just to let you know about that option.
Time of Day: Morning, Afternoon or Evening?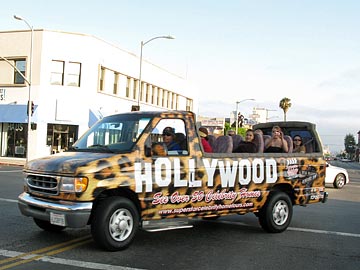 Superstar Celebrity Home Tours in Hollywood
This depends more upon your schedule than anything else, but if you have a choice, morning tours will be the best choice. One reason is that sunlight is generally better for photography in the morning than later in the day.
The next reason is traffic. Morning traffic in L.A. starts to calm down around 10 AM, when many tours are leaving. Traffic begins to pick up again around 3 PM and is worst at around 5-7 PM. Fortunately, traffic doesn't seem too bad when someone else is driving :-) But extra cars can interfere with your pictures and of course it's not fun to sit in congestion for a long time.
Mid-afternoon tours are also good for lighting and traffic. But in the late afternoon traffic starts to pick up. Also, as the sun goes down buildings cast long shadows, and the resulting contrast makes it difficult to get a nice clear photo.
Night tours are interesting because they offer a fascinating perspective of Los Angeles. It's amazing to see the lights of L.A. from the Hollywood overlook on Mulholland Drive. The lights below mesh into a huge blurry pool of illumination, and it's awe-inspiring to realize that this is only half of the city! In downtown Los Angeles, attractions such as Disney Hall and Dorothy Chandler Pavilion are illuminated in spectacular displays of light. However, you probably won't get a lot of photos, unless you have a really good camera. It's difficult to take pictures at night, especially when you are in a moving vehicle. A flash doesn't help - it simply illuminates the inside of the van.
Tour Guides
Some tour guides also work as paparazzi, so don't be surprised if their knowledge of celebrities surpasses their knowledge of the attractions. But you might get lucky and spot a celebrity on your tour... if so the guide might try to engage them in conversation! If you have a favorite celebrity, ask the guide if the tour will pass their house. They will make more of an effort to slow down or stop the van to let you get a good picture.
Tipping the Tour Guide/Driver
It should come as no surprise that the driver will expect a tip, and will probably mention it a few times during the tour ;-) Tipping is at your discretion, although an approximate guide is $3-5 per person for a 2 or 3-hour tour, and $5-10 per person for longer tours. When deciding on a tip, please consider the guide's knowledge and presentation of the attractions, as well as their driving habits on the road.
Taking Photographs / Camera Tips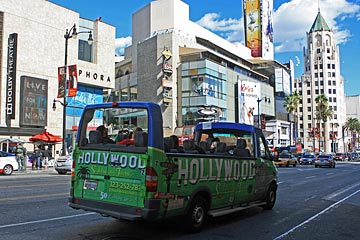 eHollywood Tours on Hollywood Boulevard
Still photography is allowed, and even encouraged. However none of the tour operators allow video or voice recording.
The main consideration when choosing a camera to take with you is that you will be in a moving vehicle with other tourists around you. If possible, take a camera that offers a fast shutter speed to compensate for the movement of the van. A digital SLR with a fast telephoto lens will do the trick, but it might be distracting to other tourists. Also, it's also kind of awkward if you've got a professional rig when everyone else has a "regular" camera. But a good camera that allows you to adjust the shutter speed will come in handy.
Lighting is not really an issue in the daytime, so an external flash is probably not going to get much use. Take a look at the Time of Day section above for more tips on lighting.
Viewing the Hollywood Sign
Most tours promise that you'll see the Hollywood Sign, and technically that is not very difficult to do, since it is visible from many locations in Hollywood. But if viewing and photographing the Sign is important to you, then find out where the tour will take you:
Hollywood Bowl Overlook on Mulholland Drive - this offers a great view of Hollywood and the L.A. basin, plus a decent view of the Hollywood Sign. It's at an angle, but it's closer than the view from Ovation Hollywood. The advantage is that this stop is on the way to celebrity homes, including Michael Jackson's final residence, and Hugh Hefner's Playboy Mansion.
Lake Hollywood - this offers a spectacular straight-on view of the Hollywood Sign, and it's close enough for some awesome pictures. The downside is that it's not really near anything else, and this excursion takes about an hour to make a round trip from Hollywood Boulevard (20 minutes each way plus 20-minute stop). The advantage is that the tour drivers know how to get there. If you try it in a rental car you might get lost :-)
Hollywood Bowl - this offers a nice view of the Hollywood Sign, accompanied by the Hollywood Bowl, if you are willing to walk high up in the bleachers.
Local Neighborhoods - DON'T DO IT - if a tour operator offers to take you into local neighborhoods, please find another tour company. If you go up there you might end up in a traffic jam, or get turned around by police. Besides, the view from Lake Hollywood is better and only a little longer drive.
Use the Tour as an Orientation
A guided tour allows you to "scope out" the territory before you head there on your own. When you preview an attraction by taking the tour, you'll know whether or not you want to return. You can also look at things like parking, and ask the driver for tips on how to visit on your own (parking, directions, etc). So take a guided tour early in your vacation, and then return to the attractions that interest you most, using a rental vehicle or the Hop-on Hop-off Tour Bus.
Types of Guided Tours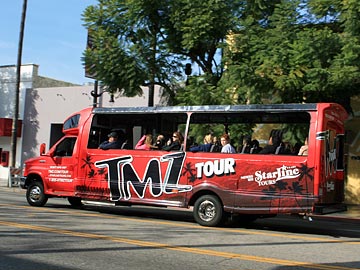 TMZ Hollywood Celebrity Tours
Guided Tours in Hollywood range from two to six hours. Longer tour include more sights and stops, and they cost more.
Two-hour tours usually include Hollywood, Sunset Strip, a number of celebrity homes, and quick swing past Two Rodeo on Rodeo Drive. A three hour tour will include all the above (maybe a few more celebrity homes), plus a 15-minute stop at either Mulholland Drive or a view spot for the Hollywood Sign. It depends on the tour.
Five to six-hour tours usually include all the above plus either downtown Los Angeles, or Santa Monica beach area.
Kids on a Guided Tour
Unfortunately, small children are likely to become bored on a guided tour. They will probably enjoy the stop at Mulholland Drive to view the city, but they are less likely to be interested in driving past Rodeo Drive, Sunset Strip, and celebrity homes, to name a few. One option is to bring a travel game or doodle board to keep your child entertained during the tour. Although you'll be paying a fare for the child to sit there play a game, it's probably less expensive than hiring a babysitter to watch them at the hotel. Plus you (and other tourists) are less likely to enjoy the tour if your kids are restless.
You know your child best, but a 2-3 hour tour will test the patience of most toddlers and young children. At the end of a 5-6 hour tour, they will probably be miserable.
Some guided tour companies do not permit children under 13, so be sure to check in advance.
Brand Name vs Budget Tours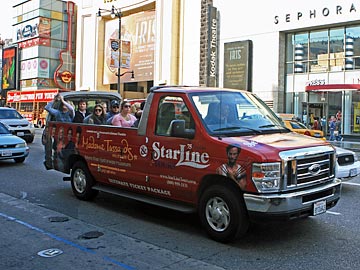 StarLine Tours on Hollywood Boulevard
There are quite a few tour van operators on Hollywood Boulevard. Some of them pitch tours to pedestrians passing by, while others have retail offices and kiosks. Most of them offer good tours, but a general rule of thumb is that "you get what you pay for."
Budget Company Disadvantages - In general, the budget tour companies do not have the same quality assurance and training as the larger companies, so the quality of the tour can be hit and miss. Some drivers only know the route, but do not have extensive knowledge of the attractions you'll see. Also, some budget companies do not strictly enforce good driving practices, and it makes tourists uncomfortable when the guide drives too fast in a residential neighborhood, or stops abruptly in front of an attraction, resulting in honks from the cars behind. Also, watch out for "bait and switch" with tour vans - some operators stand in front of a shiny new van, but then tourists are loaded onto an old van around the corner. So before you pay for the tour, find out specifically which van you will board.
Budget Company Advantages - smaller tour companies usually cost less, and often have availability when larger firms are sold out (especially during peak seasons). If you decide to take a tour at the last minute, sometimes this is your only option.
Brand Name Advantages - the first reason is quality assurance. Larger companies tend to have more professional drivers. The next advantage is experience. Some of the major brands have been offering guided tours of Los Angeles and Hollywood for decades. Another good reason is that brand-name open-top van tours usually offer headsets that are linked to the driver's microphone, which makes it easier to hear when it's noisy. Also, brand name tour companies offer modern vehicles so you won't get stuck on an old van.
When you pay thousands of dollars for a vacation, sometimes it makes sense to pay a little extra for a tour to get the full value from your vacation in Los Angeles. You can ensure a tour reservation if you book in advance (see below).
Certification
All tour companies that operate motor vehicles need a permit or certification from the DOT and CPUC:
DOT - US Department of Transportation registration number.
California Public Utilities Commission (CPUC) permit or certificate. Companies must meet minimum insurance limits and pass a California Highway Patrol (CHP) vehicle inspection, among other requirements.

TCP - Charter Party Carrier permit/certificate number.
PSC - Passenger Stage Corporation permit/certificate number.
PSG - General designation for motor carriers of passengers.
CPUC Online Lookup - use this online form to verify the status of a California motor carrier. Enter only the numeric part of the PUC registration, without designation or trailing letters. For example, to look up TCP# 12345-A you would enter "12345"
Advance Reservations
If you purchase a guided tour online, you can call 24 hours in advance to make a reservation for the tour. This is highly recommended in the summertime and other vacation seasons, when tours fill up fast. If you book the tour at the location, you will probably have to wait for an availabile tour. In extreme cases the tour company you want might be sold out for the day, and then you would need to find an alternative. It's not fun to walk around on Hollywood Boulevard talking to the tour guide vendors when you could be taking in the sights and visiting attractions. LAtourist.com offers online ticket sales for guided tours in Los Angeles, Hollywood, Santa Monica, Anaheim and other destinations in Southern California: LAtourist.com/GuidedTours