Burbank Town Center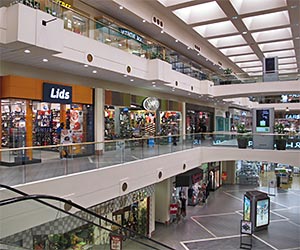 Burbank Town Center
If shopping is your thing, Burbank Town Center (website) is your place. Located at 201 East Magnolia, in beautiful downtown Burbank, Town Center is easily accessed from Interstate Highway 5 at the Burbank Boulevard exit. The location is home to several of Southern California's most desirable places to shop, grab a bite or see a movie. Parking is free and plentiful, ensuring everyone can get to where they want to go without leaving their cars blocks away.
Inside The Mall
Town Center Mall is open weekdays from 10 a.m. to 9 p.m., 10 a.m. to 8 p.m. on Saturdays and 11 a.m. to 7 p.m. on Sundays. The mall provides a wide range of shopping choices. Stores include Macy's Department Store, Sears, Sports Chalet, Bed, Bath & Beyond, Victoria's Secret, New York & Company and even Old Navy.
Shopping with kids is a breeze at Town Center. On the first floor, outside the arcade and Macy's, is Town Center's "Backlot Adventure," a place just for kiddos to safely run and play. Plus, the mall's center court features a train ride, sized just for small children. The train runs seven days a week during regular mall hours, except for when Santa Claus and the Easter Bunny are in town.
When you get hungry, you don't have to go far to calm the growling. Town Center's restaurants are sure to suit any craving. You can "flash-back-to-the-50's" at Johnny Rockets Diner, enjoy contemporary Asian cuisine at PF Chang's, or chill out with beach food at Wahoo's Fish Tacos. Of course traditional mall eateries are in Town Center's Food Court, right down to McDonalds and Sbarro's Pizza.
If you just need a small break, there are several coffee shops sprinkled throughout the mall. Or, maybe you need a bigger break or a place for the hubby or teenagers to hang while you do some serious shopping. Smack in the center of the third floor is an 8-screen AMC movie theater showing Hollywood's latest releases.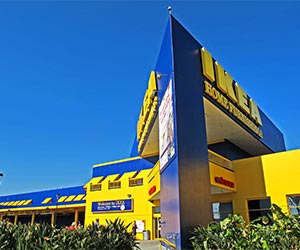 Ikea near Burbank Town Center
Outside the Mall
Burbank Town Center doesn't end at the mall doors. Outside Macy's, where Cypress and San Fernando Boulevard meet, is a pedestrian-friendly area with even more to do and see. Renowned home store IKEA is there, along with Barnes & Noble (yes, there's a Starbucks inside!) and even a 6-screen AMC movie theater.
Every point of interest at Town Center is conveniently a short walking distance from spectacular dining. IKEA's cafe is famous for its Swedish meatballs and amazingly low prices. Across from IKEA are California Pizza Kitchen, Chevy's Mexican Food and The Corner Bakery. Around the corner from Barnes & Noble, on First Street, is the celebrated California burger joint In-N-Out Burger, as well as Baja Fresh Mexican Grill. And just a bit further down First Street, there's a Hooters for the sports fanatics.
As if shopping, dining and movies weren't enough to keep you busy, Burbank Town Center also has its own live theater. Located just outside the mall on the corner of Cypress and Third, the Colony Theater features a thrust stage and comfy seating. If it's not a holiday, the box office is open weekdays from 2 p.m. to 6 p.m. for up-to-date show information.
Burbank Town Center
201 East Magnolia, Burbank
M-F: 10AM-9PM
SAT: 10AM-8PM
SUN: 11AM-7PM

More Pages:
Malls and Shopping Centers - Burbank
LA Shopping Centers and Malls