LAX Airport to Wilshire Blvd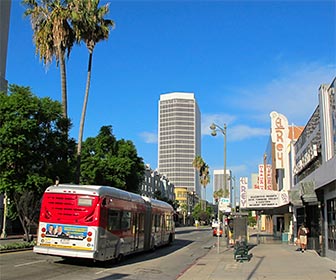 Metro Rapid 720 Bus near El Rey Theatre
Wilshire Boulevard spans 15.8 miles from Grand Avenue in Downtown L.A. to Ocean Avenue in Santa Monica. A bus tour of Wilshire Blvd will give you a great view of some nice parts of LA. This is not a formal tour offered by a tour bus company. You simply ride the public transportation on Wilshire Blvd.
Getting There
From LAX, a bus ride takes 30-60 minutes each way (including transfers) to get to the intersection of Wilshire and Sepulveda.
Click here to visit the Metro website for bus schedules
On the Metro website's home page, use the Metro Planner:
From: LAX
To: Wilshire Blvd/Sepulveda
Tip
This is a self-guided tour, so be sure to download and print information from the website listed above.
Time Estimate
After you arrive at Wilshire and Sepulveda, the bus tour of Wilshire Blvd will take 3 to 6 hours, or more, depending on your stops and traffic. So this activity will take anywhere from 5 to 8 hours, plus time for stops. Don't forget to allow an additional hour to get through security and walking through the terminal at LAX.
---
Click here to return to the list of LAX layover activities
---