LAX Airport to Sony Studios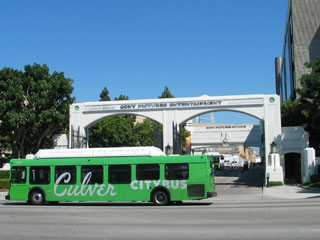 Culver City Bus at Sony Studios
Sony Studios is one of the world's most famous studio lots, this walking tour gives you a rare glimpse of old Hollywood's glory days and an insider's view of a state-of-the-art motion picture studio. Not only is this the studio where the Yellow Brick Road once wound through Munchkin Land, it is also the place where the agents from "Men In Black" battled aliens from outer space and Spider-Man catapulted from skyscraper to skyscraper. Dynamic tour guides will shed light on the film and television production process by taking you to various soundstages and by sharing tales of days gone by. You may even have the chance to visit the sets of the hit game shows "Jeopardy!" or "Wheel of Fortune."
Tip
Regular studio tour times are 9:30AM, 10:30AM, 1:30PM and 2:30PM. Advance reservations for the studio tour are highly recommended, or call in advance to confirm availability. See the Sony Studio Tour web page to find out how to get tickets. Phone: 310-244-8687
Getting There
From LAX, a bus ride takes 60-90 minutes each way (including transfers). From the terminal at LAX, take Lot C Shuttle to LAX Transit Center. Proceed to Dock #3 and take Santa Monica Bus 3 to Lincoln Bl / Washington Blvd. Get a transfer coupon on bus #3 so you can use it on the next bus. Take Culver City bus #1 to Washington Blvd / Madison Av, then walk to Sony Pictures Plaza. (Use Metro's Trip Planner to find the best route for your departure time.)
Click here to visit the Metro website for bus schedules
On the Metro website's home page, use the Metro Trip Planner:
From: LAX
To: Washington Bl/Madison Av
The Metro Trip Planner displays schedules and fare information for L.A. Metro buses and trains. It's fast and easy to use. Simply visit Metro.net to find the Trip Planner on the home page.
Time Estimate
The tour takes around two hours, plus travel time. So you will realistically need at least a 5 hour layover for this excursion. Don't forget to allow an additional hour to get through security and walking through the terminal at LAX.
---
Click here to return to the list of LAX layover activities
---