LAX Airport to Getty Center Museum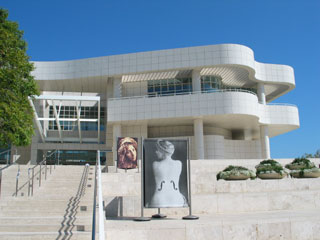 Getty Center in Los Angeles
The Getty Center presents the Getty's collection of Western art from the Middle Ages to the present against a backdrop of dramatic architecture, tranquil gardens, and breathtaking views. There is also a nice garden to enjoy, and it's a great place to spend an afternoon. Admission to the museum is free. There is a charge for parking, which does not apply if you are taking the bus.
Tips
The Getty has limited hours (see their website for a schedule), and can be quite crowded on weekends. Admission is free.
Getting There
From LAX, a bus ride takes 90-120 minutes each way (including transfers).
(Use Metro's Trip Planner to find the best route for your departure time.)
Click here to visit the Metro website for bus schedules
On the Metro website's home page, use the Metro Trip Planner:
From: LAX
To: Getty Center
The Metro Trip Planner displays schedules and fare information for L.A. Metro buses and trains. It's fast and easy to use. Simply visit Metro.net to find the Trip Planner on the home page.
Time Estimate
It could take 4 or 5 hours to see everything. Also, you might enjoy sitting in the garden or on the grass for a little while. So you will realistically need at least a 8 hour layover for this excursion. Don't forget to allow an additional hour to get through security and walking through the terminal at LAX.
---
Click here to return to the list of LAX layover activities
---