LAX Airport to Farmers Market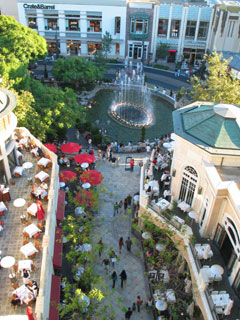 Fountain Show at The Grove
The Original Farmers Market has fresh fruit, produce, seafood, ice cream, wines, cheeses, gourmet foods, as well as gift shops.
The Grove is an outdoor shopping district featuring high-end stores and restaurants, a theater, live performances. This is a nice place to wander around and take in the sights, or go on a shopping spree.
Tip
The trolley that connects Farmers Market and the Grove is free, however it is more of a novelty than a time saver. You can walk between the Grove and Farmers Market faster than waiting for the trolley.
Getting There
From LAX, a bus ride takes 60-90 minutes each way (including transfers). Take Lot C Shuttle to LAX Transit Center, and proceed to Bay 9. Ride Metro Bus 439b to the intersection of Fairfax Ave and Apple Street. Then take Metro Bus 217 to Fairfax Ave and 3rd Street. You will see Farmers Market. Walk through Farmers Market to get to The Grove shopping district. (Use Metro's Trip Planner to find the best route for your departure time.)
Click here to visit the Metro website for bus schedules
On the Metro website's home page, use the Metro Trip Planner:
From: LAX
To: Farmers Market
The Metro Trip Planner displays schedules and fare information for L.A. Metro buses and trains. It's fast and easy to use. Simply visit Metro.net to find the Trip Planner on the home page.
Time Estimate
If you want to stroll around the Grove, plus visit some shops and stands in Farmers Market, and get something to eat, give yourself at least 3 hours, plus travel time. So you will realistically need at least a 5 hour layover for this excursion. On planning for your return trip to LAX, don't forget to allow an additional hour to get through security and walking through the terminal at LAX.
---
Click here to return to the list of LAX layover activities
---