LAX Airport to Downtown LA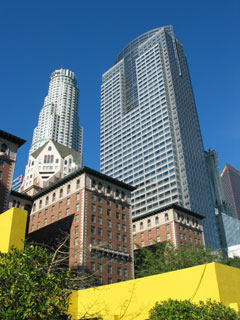 View of buildings from Pershing Square
Visit Olvera Street, Chinatown, Little Tokyo District, Shopping Districts, California Market Center, LA Fashion District, LA Flower District and more.
Tips
The attractions nearest to Union Station are Olvera Street, the Chinese American Museum, City Hall and Little Tokyo. Olvera Street is across the street from Union Station and the others are within 5-10 minute walking distance. Anything else will require a bus or train ride.
Getting There
From LAX, a bus ride takes 30-60 minutes each way (including transfers). Take the FlyAway Union Station service from the terminal at LAX (look for a green sign on the lower level) to Union Station in downtown Los Angeles.
Click here to visit the Metro website for bus schedules
On the Metro website's home page, use the Metro Trip Planner:
From: LAX
To: Union Station
The Metro Trip Planner displays schedules and fare information for L.A. Metro buses and trains. It's fast and easy to use. Simply visit Metro.net to find the Trip Planner on the home page.
Time Estimate
You will need a few hours to walk around and view the sites. So you will realistically need at least a 5 hour layover for this type of excursion. On planning for your return trip to LAX, don't forget to allow an additional hour to get through security and walking through the terminal at LAX.
---
Click here to return to the list of LAX layover activities
---